Duluth Holdings is trading well below its intrinsic value and is worth looking into prior to the company reporting earnings next month.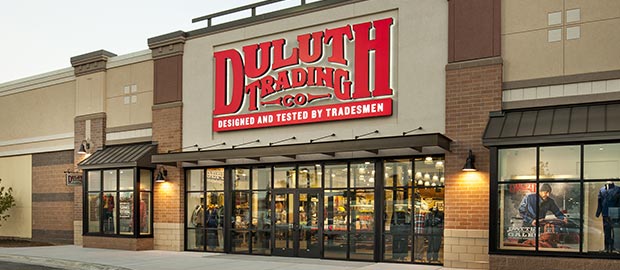 Photo Credit: Duluth Trading
Small Caps Present Opportunity
You have probably seen their clever commercials: simple, humorous cartoons that convey the benefits of Duluth's (NASDAQ:DLTH) casual wear and workwear.
But as a small-cap company ($574 million market cap.), you might be less familiar with Duluth Holdings, Inc., the stock. While large-cap stocks may boast more household names, small-cap companies can offer greater growth. What's more, academic studies have shown that small caps tend to outperform their larger cap brethren over time.
Another small-cap advantage is the opportunity to purchase shares before institutional investors are able to take meaningful positions. These large investors can eventually serve as catalysts to drive stock prices towards their intrinsic value.
With only 35% of Duluth's shares institutionally owned, let's look at the drivers behind this fast-growing small-cap stock ahead of its earnings announcement next month.
Small-Cap Due Diligence
With small-cap stocks, the research available and the areas to focus on can be slightly different from large caps. For example, there is typically less analyst research available and for rapidly expanding small companies, financial information may become quickly dated.
In addition, compared to large cap stocks with proven scale and market share, small-cap investors may wish to focus more on management and market viability. Current management has to be able to lead the company into its next stage of growth and the company's strategy and business model needs to align with market trends.
Grading Duluth
Management Effectiveness
So how has Duluth's management performed? CEO Stephanie Pugliese took over in early 2015 and her performance has been admirable. Two measures of management efficiency include return on equity and return on invested capital. Both measures suggest Pugliese has performed very well both relative to Duluth's peers and on an absolute basis: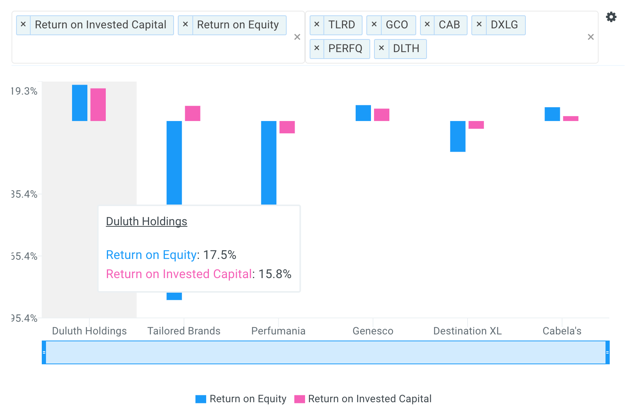 Source: Finbox.io
Distribution Model
Contributing to this efficiency has been a non-traditional distribution mix. A simple screen for undervalued retail and clothing stocks provides plenty of results. However, many of these companies earn a large portion of their revenues from brick-and-mortar stores.
Duluth flips the traditional mix on its head with 82% of revenues deriving from its online and catalog channel and only 18% from physical stores. While the company is expanding its brick-and-mortar footprint (with average store payback less than two years), if investors are looking for specialty retailers with established exposure to the e-commerce trend, Duluth certainly fits the bill.
Risks
There is some concern over promotional pressures facing Duluth throughout the holiday season. However, in the latest earnings call, management noted fewer global promotion days year-to-date compared to the same period last year. Additionally, Pugliese highlighted that ownership of their distribution channel (customers can only purchase through Duluth's channels) provides added margin protection.
Some investors also see the nature of Duluth's niche market as a potential risk to growth. This concern seems a bit overblown in light of Duluth's recent internal survey: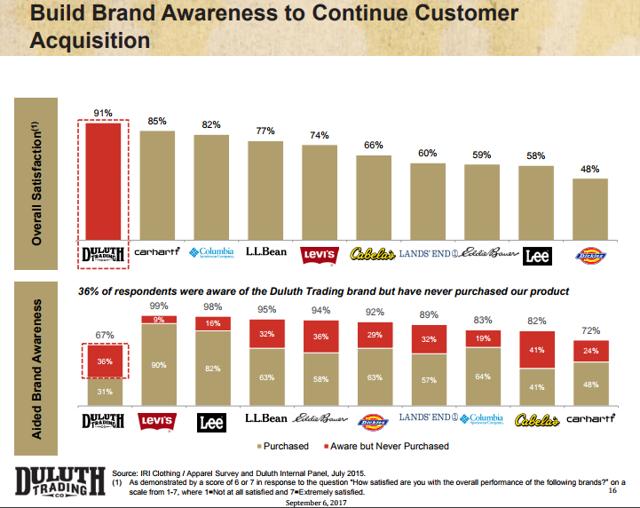 Source: Q2 Investor Presentation
36% of survey respondents who were aware of the brand have yet to purchase, suggesting some room for growth. Also, Duluth's women's business (25% of total product sales) continues to grow at a faster rate than the men's business due to recent marketing efforts. Finally, unlike other clothing companies at the whim of consumer fashion trends, Duluth's customers appear less fickle, acting as support for maintaining growth.
Valuation: Wide Margin of Safety
Over the last three years, Duluth's revenue has grown from $163M to $376M, with EBITDA margin steady at around 11%. Going forward, Wall Street analysts expect the revenue growth rate to decline just slightly before moderating over the next five years. EBITDA margin is expected to expand 5 points over that time: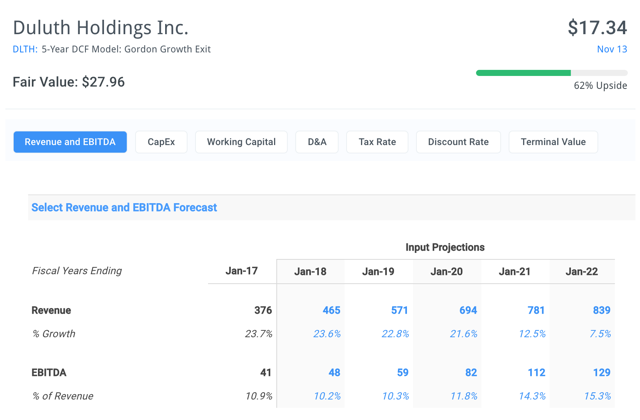 Source: Finbox.io
Using these projections over nine valuation models provides a fair value estimate of $22.21: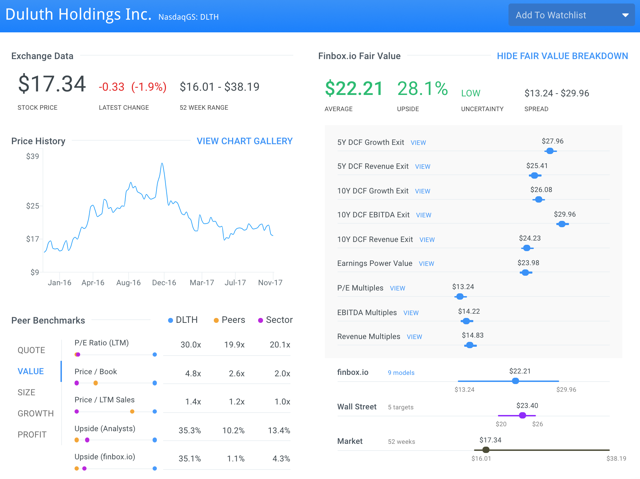 Source: Finbox.io
Compared to the recent market price of $17.34, this suggests nearly 30% upside.
Duluth: A Small Cap with Big Upside
Small cap stocks offer their own set of unique risks compared to larger-cap names. However, a focus on their key drivers can help investors capture the additional upside that these stocks tend to provide.
Duluth's management has performed well on several return metrics and growth indicators appear healthy. With over 30% upside to current trading levels, Duluth Holdings, Inc. is worth a closer look ahead of earnings next month.
Disclosure: I/we have no positions in any stocks mentioned, and no plans to initiate any positions within the next 72 hours.
I wrote this article myself, and it expresses my own opinions. I am not receiving compensation for it (other than from Seeking Alpha). I have no business relationship with any company whose stock is mentioned in this article.
About this article:ExpandAuthor payment: $35 + $0.01/page view. Authors of PRO articles receive a minimum guaranteed payment of $150-500.Tagged: Investing Ideas, Long Ideas, Consumer Goods, Apparel StoresWant to share your opinion on this article? Add a comment.Disagree with this article? Submit your own.To report a factual error in this article, click here