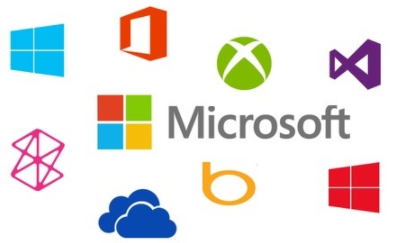 Image credit
Microsoft (MSFT) has been an outstanding performer in the past couple of years. The stock continues to make new high after new high as revenue and margin dollars continue to rise. But how long can MSFT keep the party going after a 60%+ rally in the past two years? In this article, I'll highlight MSFT's operating margins as a source of earnings growth and a reason why the rally may not be done just yet.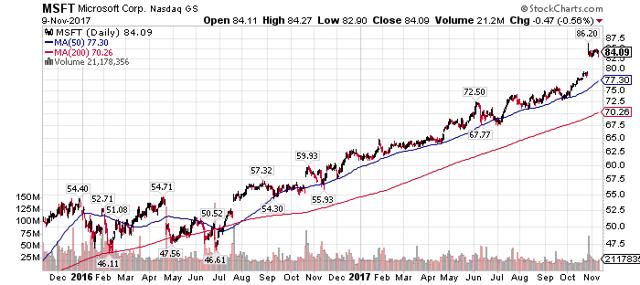 We'll begin with a look at MSFT's pretax margin for the past five years to get a historical baseline of where it's come from; data is from Seeking Alpha.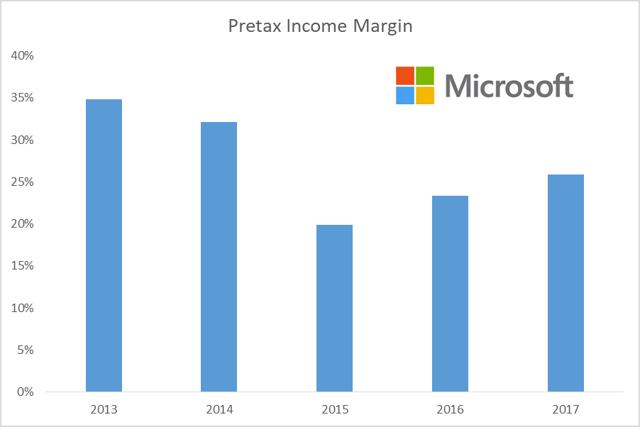 Pretax margins have actually moved around quite a bit in the past five years as MSFT has seen values as high as 35% and as low as 20%. MSFT's mix of business is constantly shifting due to acquisitions and divestitures, plus it is always focusing on its own development, chasing the next source of growth. This level of operating margin movement is still huge for one of the biggest companies in the world, but I also see some hope here. The last two years have shown enormous improvement over 2015 levels and should MSFT keep up that momentum, the stock is cheap.
Now, let's take a look at 2016's major operating margin components in order to see how these improvements were made and then compare them to 2017's levels.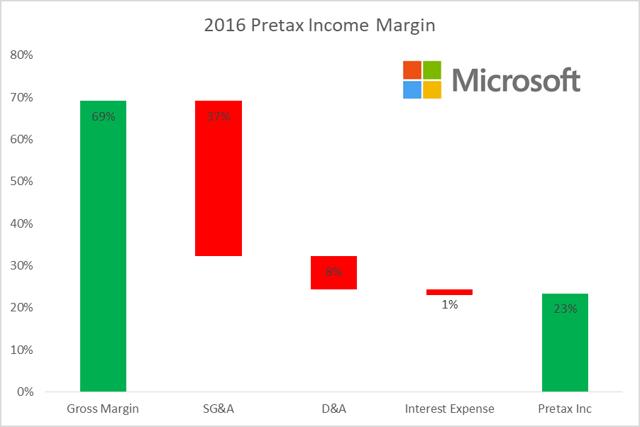 Gross margin is always very high for MSFT as its main gig is selling services, which generally carry much higher margins than physical products. The interesting thing is that 2016's level of 69% is actually the lowest level of gross margin in our dataset, which has ranged from that value to 79%, which was set in 2013. Gross margin was quite weak in 2016 due to a sizable currency translation headwind as well as lower margin revenue in the Productivity and Business Processes and More Personal Computing segments. To be sure, 2016 was an ugly year for gross margins but those headwinds appear to have abated for 2017 and that's a big feather in the cap of the bulls.
SG&A came in at 37% of revenue in 2016, which is right in the middle of the range for this dataset. MSFT's SG&A costs generally move around quite a bit as well and 2016 included some additional expenses for investments in infrastructure as well as a benefit from the move away from the phone business. This is another area where MSFT is making some headway and we'll talk more about that when comparing 2017 to 2016.
D&A costs have actually moved up fairly significantly in the past five years as this value was just 5% in 2013, but moved up to 8% of revenue in 2016. D&A costs actually moved down slightly in 2016 in dollar terms but the sizable reduction of revenue caused the value on a percentage basis to move up. However, this is not going to be a problem going forward as MSFT's revenue growth trajectory is quite positive. Still, 8% of revenue is certainly significant and does impact the margin conversation.
MSFT's debt continues to take a small slice of revenue to service interest expense, but isn't a big deal. MSFT has a very reasonable amount of debt given its size and FCF so I'm certainly not concerned.
All of this added up to 23% pretax margin in 2016 and now that we've got a basis of comparison, let's look at how things moved around last year.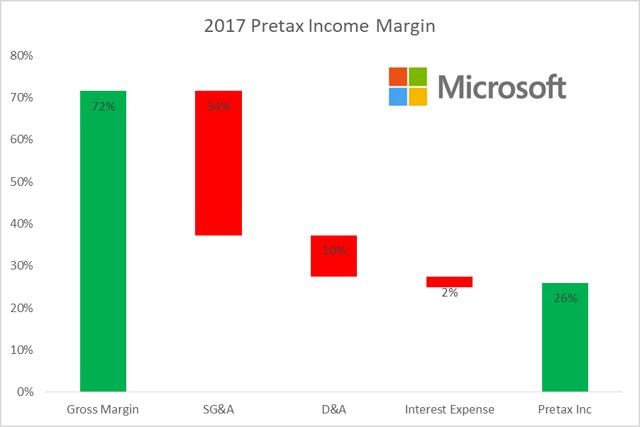 Gross margins were actually 3% higher in 2017 than 2016, which is a sizable improvement to be sure. The gains came from favorable sales mix as well as a big improvement from the Azure and Office 365 product lines. Higher revenue helped as well, in part driven by the LinkedIn acquisition. In addition, MSFT overcame an unfavorable gross margin headwind from currency translation, although the 2% decline was much less than the 5% it suffered in 2016. But all in all, gross margins improved markedly in 2016 and more importantly, the gains have staying power given the sources I just mentioned.
This is not only great for 2017 but the causes of higher margins - MSFT's product mix and smaller currency headwind - are sustainable. The company had some transitory headwinds in 2016 - like the big move from currency translation - but these gains are something MSFT can carry forward and that is a huge win for the long-term margin outlook. If mix changes unfavorably, we could see gross margins tick back down. Similarly, the dollar has been strengthening of late and that may pose a problem if the rally in the greenback continues, but overall, it looks like we'll see higher gross margins in 2018 than 2017 according to what I'm seeing.
SG&A also fell 3% in 2017 as spending rose but not as quickly as the pace of revenue growth. The LinkedIn acquisition was expensive – acquisitions tend to be that way – but the additional revenue growth and margin dollars of LinkedIn helped offset the increases in spending MSFT experienced last year. That produced the 3% leverage on SG&A we saw and that's a huge tailwind for margins.
Again, the cause for the less favorable number in 2016 was transitory and MSFT has another sustainable tailwind as revenue continues to move steadily higher. The expensive part of the LinkedIn acquisition has come and gone and I expect we'll see SG&A tick down in the coming years, barring some huge acquisition. SG&A costs, like gross margins, are moving in the right direction for MSFT and for sustainable reasons that are within the company's control, like higher levels of revenue leveraging down operating and fixed costs. This is the hallmark of a business that can produce strong, longer term runs higher in margins. SG&A costs could be derailed by heavier incentive and stock compensation spending, over-hiring or an acquisition, but those things don't appear to be significant risks at this point.
D&A rose once again in 2017 but the causes – LinkedIn and cloud engineering – should be at least somewhat transitory. I don't think 10% is the new normal for D&A costs because LinkedIn has been such a driver and because MSFT won't need such high levels of investment in its cloud business forever. I'm sure something else will come up in the next few years that will require significant investment as a result of a strategy change but for now, I don't expect D&A to be the headwind it was in 2017.
MSFT has to invest in certain product lines from time to time and the cloud business is having its day now. That won't be necessary forever but longs should keep an eye on this as tech companies can easily overspend on new product lines that may not work out. I'm not suggesting that will happen here, but 10% of revenue is a bunch and surely shareholders would like to see it come down; this is one thing I'll be watching closely as the fiscal year unfolds.
Interest expense moved up slightly in 2017 but overall, MSFT hit 26% operating margins in 2017, a 260bps improvement over 2016. That's a tremendous gain but given the components we just talked about, it looks like that number could and should go higher in the short term, driving some additional EPS growth. MSFT has both gross margin and SG&A tailwinds so the bias for operating margins looks to be up, but investors would do well to monitor both line items on the income statement to understand if the margin story is working the way I envision in 2018.
Under a scenario where the things I've just mentioned come to fruition, we could see slight improvements in gross margins and SG&A costs while D&A comes back down to perhaps 8% of revenue, leading to a reasonable path to 28% operating margins. To be sure, MSFT has some work to do in terms of slowing investments in its mix of business but given that we saw such a sizable improvement in 2017 while MSFT still had meaningful headwinds to margin expansion, I'm optimistic for the reasons I've laid out.
But why does all of this matter? It matters because while the stock isn't cheap at 26 times this year's earnings, there exists the distinct possibility that MSFT beats its estimates this year. Analysts are building in 8% sales growth but EPS change of -3%. That implies that the buyback – which is usually good for about 2% - and margins will produce something like -11% growth combined this year. If we assume the buyback will do 2% and sales move up 8%, that's 10% combined growth from those two sources. That just leaves us with margins and that estimate implies -13% from margins, meaning operating margins would have to move back down to something like 22% or 23% this year. That seems like quite the pessimistic view and while it may happen – the year is young – it also leaves the door wide open for upside surprises. Indeed, analysts have nudged estimates down for this year in the past few months and that is exactly the situation you want if you own a stock; the lower the expectations, the better. And right now, MSFT has low expectations.
That doesn't jive with the stock that is flying but to me, this represents a terrific opportunity to take advantage of those low expectations and pick up a stock with long-term margin tailwinds and an analyst community that isn't fully bought in. MSFT may consolidate in the short term just because it has seen such a huge rally, but longer term, this baby is going higher.
Disclosure: I/we have no positions in any stocks mentioned, and no plans to initiate any positions within the next 72 hours.
I wrote this article myself, and it expresses my own opinions. I am not receiving compensation for it (other than from Seeking Alpha). I have no business relationship with any company whose stock is mentioned in this article.
About this article:ExpandAuthor payment: $35 + $0.01/page view. Authors of PRO articles receive a minimum guaranteed payment of $150-500.Tagged: Investing Ideas, Long Ideas, Technology, Application SoftwareWant to share your opinion on this article? Add a comment.Disagree with this article? Submit your own.To report a factual error in this article, click here