Financial Statement Analysis (Fall 2017)
Final Report on Mondelez International
(NASDAQ: MDLZ)

Picture Credit: Wikipedia
Analyst Team Members:
Emily Abraham
Macy Huang
Eila Motley
Charlene Shu
1. Executive Summary
Mondelez International Inc. (NASDAQ: MDLZ) is one of the largest snack and confectionery companies in the world. It has a commitment to create "delicious moments of joy" for consumers around the world and has many recognizable brands including Oreo, Chips Ahoy!, and Trident. Mondelez has a competitive international presence and extensive economies of scale, which it has obtained in its many years of operation and series of acquisitions it has performed. However, industry growth has been stagnant in recent years as consumers have become increasingly health conscious and abandoning snack foods for healthier options. The low industry growth rate is crucial to understanding a prospective valuation analysis for Mondelez.
In terms of accounting policies, it is always crucial to understand various accounting practices that a company employs in order to better understand the company's financial position. There are general management incentives to distort accounting figures in order to bolster company performance from the perspective of onlookers. For example, the company's revenue recognition policies allows room for estimation, as provisions for product returns and trade allowances are estimated by the company with limited transparency. In terms of inventory policies, with a large retailer like Mondelez, it is particularly important to look at how the company accounts for inventory. Mondelez employs an average cost system, which differs from the LIFO industry norm and can increase earnings as LIFO typically recognizes a higher cost of goods sold due to inflation.
The financial metrics for Mondelez suggest a bearish point of view. Profit margins and ROE have been volatile and declining overall. Liquidity and coverage ratios have similarly been on the decline and indicating that the company does not have adequate cash on hand to meet obligations. Much of this can be attributed to declining revenues as the snack industry sees low growth and high competition from healthier alternatives.
Valuation in all DCF and AEM cases yielded a smaller target price than the current share price of Mondelez at $42.94. DCF and AEM base cases both yielded a target share price of $18.84, which implies a significant discount from the current price. Furthermore, in the most optimistic AEM case, we arrived at a target price of $21.98, which is still lower than what the stock is currently trading at. Based on these factors, we recommend a short position in Mondelez.
2. Business Analysis
2.1 A brief introduction
Mondelez International Inc. is an American multinational confectionery, food and beverage company founded in 1923 and headquartered in Deerfield, Illinois. It operates in approximately 165 countries around the world and consists of snack and food brands from the former Kraft Foods Inc., which it split off from in 2012. The company's portfolio includes 57 food and beverage brands. Mondelez characterizes its brand family into 5 broader categories: beverages, biscuits, meals & grocery, chocolate, and gum & candy. The combination of its biscuit and chocolate segments account for roughly 71% of the company's total revenue as of FY 2016. In 2010, Mondelez acquired Cadbury, a British multinational confectionery company and expanded its share of industry revenue significantly. Major brands acquired through this acquisition include Cadbury, Toblerone, Dairy Milk, and Creme Egg. Revenues increased quickly through 2011 as a result of the acquisition, but performance in the years after suffered due to falling chocolate prices and weak sales growth in developed countries. The majority of growth came from developing markets, generating about ⅓ of the company's total revenue in recent years. In 2016, the company earned an estimated $25.9 billion in consolidated revenue. As of 2017, the company has an estimated annual revenue of $30 billion and market capitalization of approximately $63 billion.
As a diversified food and beverage company, Mondelez faces competition from other food, beverage, and snacking companies including: General Mills (NYSE:GIS), Kraft Heinz (NASDAQ:KHC), Kellogg (NYSE:K), Ferrero, Campbell Soup Company, Hershey's (NYSE:HSY), Mars, Dean Foods (NYSE:DF), Nestle (OTCPK:NSRGY), Unilever (NYSE:UL) (Food Segment), ConAgra (NYSE:CAG), and Tyson (NYSE:TSN). Many of these companies produce similar products that occupy a relatively similar position in the consumer's mind, and they are all competing to gain market share in a space that is mature. These companies are increasingly looking towards growth from emerging markets and creating product lines that are catered to a more health-conscious population in order to promote growth today.
2.2 Business model and corporate strategy
MDLZ manufactures and markets snack food and beverage products for consumers around the world. The friction in the economy the business addresses is to match consumption patterns and the dynamic global need for delicious snacks and beverages. MDLZ offers a wide range of products, and the company's portfolio includes iconic brands including Nabisco, Oreo, belVita, Toblerone, Trident, and Halls.
Management's strategy is to leverage the company's global footprint, market leadership, core snack brands, and innovation platforms to achieve three primary goals. The first goal is to grow their people by creating an environment that challenges employees to demonstrate innovation and leadership. The company wants to support and build upon the success of employees by first investing in its people in order to achieve world-class capabilities. The next goal is to grow the business through multiple avenues. A few key areas of focus include matching consumer preferences for accessible and better-for-you snacking, expanding the e-commerce platform, and optimizing the cost structure. Lastly, MDLZ is dedicated to growing their impact. The snacking business is dependent on enhancing the well-being and communities of people who make and enjoy MDLZ products. In addition to being a leader in tasty, accessible, and well-being snacks, MDLZ is focused on workplace wellness, safety programs, community programs, and humanitarian aid to drive meaningful social and environmental changes.
MDLZ primarily makes money through selling products that fall in the following categories: biscuits, chocolate, gum & candy, beverages, and meals & grocery. These sales can be segmented by the geographical regions of Latin America, AMEA (Asia, Middle East, Africa), Europe, and North America. Historically, these products are generally sold to supermarket chains, wholesalers, supercenters, convenience stores, drug stores, and other retail outlets. MDLZ distributes the products through use of direct store delivery, warehouses, distribution centers, and other facilities. With the growth of online shopping, MDLZ products are also sold on their growing e-commerce platforms to provide consumers convenience and personalized offerings.
2.3 Industry competitive analysis
As Mondelez operates primarily in the snack/confectionery industry, competitive analysis will be performed on the "unhealthy" snack food industry. The threat of a firm entering this industry and achieving the same scale is low. These firms must produce products at a low cost in order to provide retailers and wholesalers with room for markups. Thus, economies of scale are critical to produce at a competitive cost. Furthermore, significant capital is required to create a new product. Mondelez, for example, averages $400M per year in R&D expense. The company holds intellectual property considered material to its success. Capital is also required to build a recognizable brand. A brand lacking recognition will be limited in its ability to secure shelf space. Even if on shelves, it will likely underperform. Among Mondelez's products, the company classifies some power brands, which are the company's most well-known and lucrative brands, and these accounted for 70% of net revenue in 2016. This demonstrates the impact of branding, which comes at a hefty price. Lastly, firms in this industry face regulation governing labeling, packaging, pricing, marketing, advertising, privacy, the environment, and related areas in local, national, and multinational arenas. A new entrant would find it cumbersome to be compliant in all of these areas.
In terms of supplier power, the majority of cost of goods sold is spent on raw materials, packaging, and natural gas, all of which have several suppliers. The markets for these undifferentiated commodities exist in near perfect competition. Thus, each supplier has limited market power to alter prices. For example, many of Mondelez's commodities are supplied by small farmers. Supplier markups tend to be low. In the case of a poor supplier relationship, due to the volume of suppliers and undifferentiated product, companies in this industry can easily turn to another supplier. Mondelez, for example, has a complex network of suppliers. On the other hand, Mondelez cites is the threat of commodity constraints, in which case, suppliers would have the power to increase prices. Overall, the threat firms face from suppliers is low.
The key substitutes in this industry are fruits, vegetables, and natural beverages such as milk and water. While these substitutes are a staple in any household, they are also tend to come at a higher price point than processed snacks and beverages. Furthermore, consumers in this industry look for variety in what they eat and are unlikely to limit their diets to these substitutes. Yet, with the recent trend toward healthier eating, it is likely that these substitutes are gaining more favorability. Thus, overall the threat of substitutes is medium.
Current buyer concentration is higher than firm concentration, but the current trend is the opposite. During 2016, Mondelez's five largest customers accounted for 16.6% of net revenues. Yet, this cannot confidently be expected for the future. The key trend among retailers and wholesalers is consolidation. Many are forming buyer alliances, reducing firms' ability to raise prices and secure shelf space. These buyers also demand smaller volumes as new products enter the market. Furthermore, buyers have grown in scale, enabling them to carry lower levels of inventory. This is reflected in Mondelez's decline in sales for the past three years. The growth of product offering has also decreased buyer switching costs relative to firm switching costs. Lastly, a strong trend among retailers is the creation of private-label brands. Retailers have created these brands as an effort to compete with firms such as Mondelez. Often, these brands are set as a lower price point, and thus, are attractive to consumers, especially in periods of limited economic growth. All of these efforts by retailers have been exacerbated by the current threat of e-commerce, culminating in a high threat from buyers.
The industry overall is classified as slow growth, and it is becoming increasingly concentrated. Competitors include major international food, snack, and beverage companies that operate in multiple geographic areas as well as numerous local and regional companies. These competitors often compete in the same product types, or have the resources to bring competing products to market. Competition is based on product quality, brand recognition and loyalty, service, product innovation, taste, convenience, the ability to identify and satisfy consumer preferences, effectiveness of sales and marketing, routes to market and distribution networks, promotional activity, and price. Many of these companies outsource production, making capacity and fixed costs less significant issues. The differences between products are not fundamental, making brand recognition important. Switching costs for consumers are minimal, as the product is at a lower price point. Thus, rivalry among existing brands is high. Competition may lead to price reductions. Mondelez has already responded to this threat through its effort to improve its cost structure and operating model.
2.4 Critical success factors
CSF – Strong, Iconic Brands: MDLZ's portfolio of brands includes iconic consumer snacks such as Nabisco, Oreo, LU, belVita biscuits, Cadbury, Milka, Toblerone, Trident gum, and Halls. The stability of MDLZ's success is attributable to name brand recognition and the proliferation of Mondelez-made goods in the average household.
CSF – Geographic Coverage: MDLZ manufactures and markets its products to consumers in approximately 165 countries around the world. Its expansive global footprint is partially responsible for the success of MDLZ's operating business historically and has allowed it to remain a market leader in snack food and beverages. Collaborating globally, MDLZ is able to scale ideas quickly and capture market share in numerous regions simultaneously.
CSF – Economies of Scale: MDLZ brought in global net revenues of $25.9 billion and net earnings of $1.7 billion in 2016. The sheer volume of production the company operates at allows it to capture notable cost advantages. MDLZ deploys operational supply chain efficiencies and synergies across product lines.
Corporate Strategy: MDLZ has outlined three goals: "Grow our People, Grow our Business, Grow our Impact." The company aims to achieve long-term growth by focusing on its core snacks business and ramping up the proliferation of Power Brands globally. MDLZ is committed to staying innovative in its platforms and the channels through which it connects to consumers, both traditionally and digitally. As shopping expands online, MDLZ is allocating resources to grow its e-commerce presence. The company asserts that future growth prospects are linked to enhancing the wellbeing of their consumers by a redefined focus on nutrition and a balanced diet.
Industry Competition: MDLZ faces steep competition in all aspects of its business, primarily from other large multi-nationals. In the face of competitor and customer pressures, MDLZ may partake in a price slashing strategy. If input costs are subject to market conditions and outside of MDLZ's control, the company runs the risk of operating at a severely depressed profit margin.
In terms of a long-term outlook for the company, MDLZ asserts that to achieve long-term growth it will need to invest heavily in research and development and commit to marketing, advertising, and promotional investments. A failure to address a globally shifting consumer focus towards well-being, weight management, and ingredient consciousness will be detrimental to MDLZ's long-term viability.
3. Accounting Analysis
3.1 Management incentives
MDLZ's managers have clear incentives to distort reported accounting numbers that do not reflect economic activities. The company has significant amounts of stock-based compensation. As of the latest 10-K, there were 39 million shares subject to option under the performance incentive plan at an aggregate intrinsic value of $777 million. As a result, management compensation is heavily affected by the company's stock price and are therefore likely to be tempted to distort numbers to increase stock option value.
Management is incentivized to do everything they can to increase the stock price, and the easiest way to do so is by reporting positive results with quarterly releases. Just as any other company, MDLZ's stock fluctuates depending on whether or not MDLZ is able to match analyst expectations each quarter. Historically, if analyst estimates were not met, the company would be punished heavily as seen in stock charts. As a result, there is likely to be manipulation to positively spin a variety of accounting numbers reported in the financial statements.
The most watched metric is typically EPS, so management would be most tempted to manipulate easily distorted numbers that affect earnings. For example, with revenue recognition, the company has provisions for product returns and trade allowances that are estimated at the company's own discretion. Long-lived assets capitalized software costs could also be effortlessly distorted by adjusting estimated useful lives, which would then impact depreciation expense. The same distortions can also been seen in insurance liabilities and multiple other sections of the financial statements. These reported numbers act as signals to investors, and it is beneficial for management to present numbers in a way that make the company look better. Even though numbers might not reflect economic activities, raising the stock price will allow management to receive higher annual performance bonuses and create value for the stock-based compensation they hold.
3.2 Qualitative and quantitative red flags
Mondelez has not seen any recent auditor or CFO resignations, and earnings and cash flows appear relatively consistent with each other. Net earnings for FYE 2016, 2015, and 2014 were $1.454 billion, $7.884 billion, and $2.554 billion. Ending cash and cash equivalents for those corresponding periods were $1.741 billion, $1.870 billion, and $1.631 billion. There are, however, other indicators of low accounting quality. The policies for goodwill and non-amortizable intangible assets are subject to significant discretion. The company tests these assets for impairment annually through a qualitative review that includes assessment of the industry, market, and general economic factors. If the company concludes that there are other considerations to be made and that a significant goodwill impairment risk is possible, it may elect to perform a quantitative review by comparing estimated fair value with carrying value of the asset. This policy of comparing estimated fair value with carrying value is quite standard and performed by other players in the industry, but there exists much room for manipulation in the initial determination of qualitative evaluation criteria and the decision to utilize a quantitative test on goodwill.
Furthermore, Mondelez has insurance and self-insurance that are used for various risks including workers' compensation, general, automobile, product liabilities, and obligations for employee healthcare benefits. The liabilities associated with these risks are measured on an undiscounted basis by evaluating and making judgments about historical claims experience and other actuarial assumptions and the estimated impact on future results. There isn't much detail on these insurance accounting policies, and the fact that the company has elected to evaluate the liabilities in this account based on judgements about historical claims rather than a discounted basis allows room for error.
3.3 Accounting flexibility and adjustments
Stock-based Compensation
As of the latest 10-K, MDLZ has significant stock options, deferred stock, and performance share units outstanding. The stock options generally become exercisable in three annual installments beginning after one year and have a maximum of ten years. These options are recorded at fair value using Black-Scholes methodology. MDLZ's stock-based compensation accounting is standard and has excellent disclosure as well as transparency. The company provides clear assumptions of the risk-free interest rate, expected life, expected volatility, and expected dividend yield. This suggests that no further adjustments are needed in this section.
Inventory Costs
MDLZ's net inventory consists of raw materials, finished products as well as inventory reserves. The inventory is valued using average cost method, and inventory allowances are recorded for overstock and obsolete inventories due to ingredient and packaging changes. MDLZ's inventory accounting policies are unique from those of its peers. Competitors such as General Mills and Hershey both use LIFO to evaluate inventory for US sales. These peers are mature companies that benefit from reducing taxable earnings and therefore taxes in the current period through using LIFO. MDLZ used to also record inventory with LIFO method until 2009 when they switched to average cost method. MDLZ claims that it better reflects economics of the business, improves compatibility with competitors, and reduces accounting costs. The third explanation is likely the true reason for the change in inventory accounting since MDLZ has struggled with maintaining profitability throughout the years. Comparable firms also value U.S. inventories on a LIFO basis, although inventories outside of the U.S. are generally valued at lower of cost, using FIFO or net realizable value.
Revenue Recognition
MDLZ's revenues are recognized under the sales-basis method, once title and loss risk have passed to the customer. Transfer is most often considered to occur with the delivery or shipment of goods. The company records revenues net of product return allowances within the same period that the revenue is recognized. Although product return allowances have not been disclosed, MDLZ's policies here appear sound as it generically disclosed under Use of Estimates that its estimates are derived from historical experience and other assumption it believes are reasonable, noting that the difference between estimates and actuals in any previous year have yet to have a material effect on MDLZ financial statements.
Long-lived Asset Depreciation
Property, plant, and equipment are included on the balance sheet at original acquisition price and then depreciated on a straight-line basis. Machinery and equipment are depreciated over a useful life of 3 to 20 years, and buildings and improvements upon buildings are depreciated over a useful life of up to 40 years. Periodically, MDLZ assesses the reasonability of remaining useful lives and may accelerate depreciation or consider asset impairment. MDLZ performs an undiscounted operating cash flow analyses to determine whether a the recording of an impairment is necessary. These tests and policies are consistent with industry norms,
Operating Leases
Rental expenses were $317 million, $331 million, and $399 million in 2016, 2015, and 2014 respectively. The minimum rental commitments under non-cancelable operating leases in effect at year end as of December 31, 2016, were $241 million in 2017, $175 million in 2018, and $143 million in 2019. From 2020 to 2021, operating leases total $205 million, and $157 million from 2022 and onwards. These operating lease payments represent the minimum rental commitments under non-cancelable operating leases for the company. Mondelez does not provide much detail on its operating lease policies, and more transparency would be beneficial for analysts. Industry peers such as General Mills provide more transparency on what the leases pertain to (i.e. warehouse space and equipment) and also explains additional payments that go into their operating leases such as property taxes, insurance, and maintenance costs. Mondelez could also provide such information to increase clarity.
Intangible Assets Amortization
Amortizable intangible assets for MDLZ consists primarily of trademarks, customer-related intangibles, process technology, licenses, and non-compete agreements. This is distinct from non-amortizable intangible assets, which consist of brand names purchased through acquisitions. Intangible assets are reviewed for realizability on an ongoing basis. Mondelez amortizes definite-lived intangible assets over their estimated useful lives and evaluates them for impairment. At FYE December 31, 2016, the weighted-average life of the company's intangible assets was 13.5 years, and amortization expense for intangible assets was $176 million. In 2015 and 2014, this expense was $181 million and $206 million respectively. Mondelez estimates that moving forward, the annual amortization expense for each of the next five years will be about $171 million. An example of a transaction resulting in an allocation to amortizable intangible assets includes that on November 2, 2016, the company purchased intangibles from Burton's Biscuit Company including a license to manufacture, market, and sell Cadbury-branded biscuits in key markets, and as a result, Mondelez recorded $72 million to amortizable intangible assets. There is adequate transparency regarding the policies for this account, and this matches industry standards.
3.4 Measuring CSFs and the impact of accounting quality
CSF – Strong, Iconic Brands:
Mondelez specifies its "power brands," brands toward which Mondelez makes disproportionate investments. Displayed below is growth for these brands.
| | | | |
| --- | --- | --- | --- |
| | 2014 | 2015 | 2016 |
| Net Revenue from "Power Brands" | 23,282 | 20,350 | 17,951 |
| Revenue Growth | | -13% | -12% |
Above table created by authors using data from SEC EDGAR database.
"Power brands" are determined by Mondelez. Thus, there is likely bias in the brands selected. We could also consider the impairment of trademarks. The value of impairment is dependent on estimates of future sales and growth rates, as both reflect the strength of a brand.
| | | | |
| --- | --- | --- | --- |
| | 2014 | 2015 | 2016 |
| Impairment Expense | 57,000 | 83,000 | 98,000 |
| Growth | | 46% | 18% |
Above table created by authors using data from SEC EDGAR database.
CSF – Geographic Coverage:
An approach to measure geographic exposure is calculating revenue growth per segment:
Net Revenues

2014

2015

2016

Latin America

5,153

4,988

3,392

% Growth




-3%

-32%

AMEA

6,367

6,002

5,816

% Growth

-6%

-3%

Europe

15,788

11,672

9,755

% Growth

-26%

-16%

North America

6,936

6,974

6,960

% Growth

1%




0%
Above table created by authors using data from SEC EDGAR database.
Keep in mind, the above doesn't give country level detail. The above growth could be driven by a few countries in each respective region rather a broad mix of countries.
CSF – Economies of Scale:
A primary benefit of operating at a large scale is the ability to realize a higher margin.
| | | | |
| --- | --- | --- | --- |
| | 2014 | 2015 | 2016 |
| Operating Income Margin | 9.5% | 30.0% | 9.9% |
Above table created by authors using data from SEC EDGAR database.
The significant increase in 2015 was primarily the result of a gain on sale. It is important to know that changes in operating margin are not only the result of changes in scale and operational efficiency. Idiosyncratic events may also play a significant role.
Based on our analysis of accounting policies, we discovered that policies are generally in line with industry norms and any potential inclinations to manipulate by management are immaterial to financial analysis. Thus, our consensus is that Mondelez's current accounting policies are robust.
4. Financial Analysis
4.1 Profitability Analysis – DuPont Disaggregation
| | | | | | |
| --- | --- | --- | --- | --- | --- |
| | Dec. 31, 2012 | Dec. 31, 2013 | Dec. 31, 2014 | Dec. 31, 2015 | Dec. 31, 2016 |
| Profit Margin | 8.84% | 11.15% | 6.43% | 24.60% | 6.44% |
| Asset Turnover | 46.39% | 48.68% | 51.25% | 47.16% | 42.13% |
| ROA | 4.10% | 5.43% | 3.29% | 11.60% | 2.71% |
| Leverage | 2.33x | 2.23x | 2.40x | 2.24x | 2.44x |
| ROE | 9.56% | 12.10% | 7.90% | 25.95% | 6.62% |
Above table created by authors using data from SEC EDGAR database.
As seen above, ROE has been quite volatile over the past five years, ultimately ending off lower in 2016 than in 2012. The biggest driver of this volatility is Mondelez's profit margin. As you can see, both metrics have moved together for the past five years. No other component of ROE has the same level of volatility as the profit margin, and thus, in order to drive ROE in the future, Mondelez must seek to significantly increase its profit margin year over year.
The profit margin is constructed by dividing net income by sales. Thus, Mondelez' objective is to increase net income. To get from sales to net income, you must deduct cost of goods sold and other operating expenses. Mondelez must seek ways of reducing these expenses while maintaining the same level of sales in order to increase its profit margin. This is why our team presented economies of scale as a critical success factor. By operating at a larger scale, Mondelez would be able to lower its operating costs per unit produced. Mondelez could also consider investing less in lines of business with lower profit margins in order to increase its overall profit margin. Lastly, Mondelez should look at the general and administrative expenses for the business and cut those that the business can operate without.
4.2 Profitability Analysis – An Alternative Disaggregation
| | | | | | |
| --- | --- | --- | --- | --- | --- |
| Recasted B/S | Dec. 31, 2012 | Dec. 31, 2013 | Dec. 31, 2014 | Dec. 31, 2015 | Dec. 31, 2016 |
| OWC | 125 | (1,205) | (1,053) | (2,993) | (3,696) |
| Net LT Assets | 47,180 | 48,194 | 43,975 | 44,621 | 44,369 |
| Net Debt | $14,950 | $14,457 | $15,069 | $13,528 | $15,458 |
| CEQ | 32,355 | 32,532 | 27,853 | 28,100 | 25,215 |
| Balance Check | 0 | 0 | 0 | 0 | 0 |
| | | | | | |
| NOPAT | $4,781 | $5,474 | $2,984 | $8,380 | $2,883 |
| Operating ROA | 10.11% | 11.65% | 6.95% | 20.13% | 7.09% |
| Net Leverage | 46.21% | 44.44% | 54.10% | 48.14% | 61.30% |
| Borrowing Cost | 11.28% | 10.65% | 5.20% | 8.05% | 7.85% |
| Spread | -1.18% | 1.00% | 1.76% | 12.08% | -0.76% |
| ROE | 9.56% | 12.10% | 7.90% | 25.95% | 6.62% |
Above table created by authors using data from SEC EDGAR database.
As seen above, ROE has come down over the past five years. The biggest driver of this is operating ROA, as both variables have moved in tandem. Operating ROA deals with the inherent profitability of the business. Thus, by attaining greater operational efficiency and securing higher prices, Mondelez can increase ROE. This disaggregation also demonstrates that Mondelez should increase leverage in the case of positive spread. Mondelez followed this strategy between 2015 and 2016, but this resulted in a negative spread for 2016. Thus, Mondelez should reduce leverage going forward. Its current cost of borrowing exceeds its operating ROA, and thus, Mondelez cannot sustain higher levels of leverage through its operations. Mondelez's primary strategy going forward should be to reduce leverage until its operating ROA has increased enough to exceed its borrowing cost.
4.3 Credit Analysis
| | | | |
| --- | --- | --- | --- |
| Coverage Ratios | | 2015 | 2016 |
| Cash from operations | | 3,728 | 2,838 |
| Short term debt | | 236 | 2531 |
| Current portion of short term debt | | 605 | 1451 |
| Long term debt | | 14557 | 13,217 |
| Cash from operations to total debt | | 0.24 | 0.17 |
| | | | |
| Cash from operations | | 3,728 | 2,838 |
| CAPEX | | -1,514 | -1,224 |
| Short term debt | | 236 | 2531 |
| Current portion of short term debt | | 605 | 1451 |
| Long term debt | | 14,557 | 13,217 |
| Free operating cash flow to total debt | | 0.14 | 0.09 |
| | | | |
| Liquidity Ratios | | | |
| Current Assets | | 8,958 | 8,480 |
| Current Liabilities | | 10,922 | 14,417 |
| Current Ratio | | 0.82 | 0.59 |
| | | | |
| Cash | | $1,870 | $1,741 |
| Marketable securities | | 0 | 0 |
| Accounts Receivables | | 3,846 | 3,470 |
| Current Liabilities | | 10,922 | 14,417 |
| Quick Ratio | | 0.52 | 0.36 |
| | | | |
| Solvency Ratios | | | |
| Total liabilities | | $34,743 | $36,323 |
| Stockholders' equity | | 28,100 | 25,215 |
| Liabilities-to-equity ratio | | 1.24 | 1.44 |
| | | | |
| Long-term debt | | 14,557 | 13,217 |
| Current portion of long-term debt | | 605 | 1451 |
| Short-term debt | | 236 | 2531 |
| Stockholders' equity | | 28,100 | 25,215 |
| Total debt-to-equity ratio | | 0.55 | 0.68 |
Above table created by authors using data from SEC EDGAR database.
Our coverage analysis reveals that MDLZ has poor "flow" ratios, meaning its ability to generate additional cash to cover principal and interest payments when due is a concern. Although still low, cash from operating to total debt and free operating cash to total debt saw an increase from 2015 to 2016. MDLZ's liquidity ratios indicate that the company does not have adequate cash on hand to cover obligations coming due. Both current and quick ratios worsened in 2016 when compared to 2015. Additionally, MDLZ's >1 liabilities-to-equity ratio indicates MDLZ suffers from greater long-term solvency risk. This risk increased from 2015 to 2016.
4.4 CSF Analysis
CSF – Strong, Iconic Brands:
| | | | |
| --- | --- | --- | --- |
| | 2014 | 2015 | 2016 |
| Net Revenue from "Power Brands" | 23,282 | 20,350 | 17,951 |
| Revenue Growth | | -13% | -12% |
Above table created by authors using data from SEC EDGAR database.
Mondelez's premier brands have been shrinking over time. This points to Mondelez's lowered ability to differentiate its brands due to the influx of new brands in the same markets.
| | | | |
| --- | --- | --- | --- |
| | 2014 | 2015 | 2016 |
| Impairment Expense | 57,000 | 83,000 | 98,000 |
| Growth | | 46% | 18% |
Above table created by authors using data from SEC EDGAR database.
Mondelez's trademarks have faced increased impairment year over year. This further validates our thesis that Mondelez's brands have weakened over time.
CSF – Geographic Coverage:



Net Revenues

2014

2015

2016

Latin America

5,153

4,988

3,392

% Growth

-3%

-32%

AMEA

6,367

6,002

5,816

% Growth

-6%

-3%

Europe

15,788

11,672




9,755

% Growth

-26%

-16%

North America

6,936

6,974

6,960

% Growth

1%

0%
Above table created by authors using data from SEC EDGAR database.
Net revenues have decreased overall, year over year, in all geographical segments. North America is the only segment in which Mondelez has realized slight revenue growth. Mondelez has suffered the most overall in Europe and Latin America.
CSF – Economies of Scale:
| | | | |
| --- | --- | --- | --- |
| | 2014 | 2015 | 2016 |
| Operating Income Margin | 9.5% | 30.0% | 9.9% |
Above table created by authors using data from SEC EDGAR database.
To an extent, we can see that Mondelez has realized economies of scale between 2014 and 2016. The increase between 2014 and 2015 is due to a one-time event as Mondelez sold off its coffee business in 2015.
5. Prospective Analysis
5.1 Forecasting Condensed Financial Statements
Base Case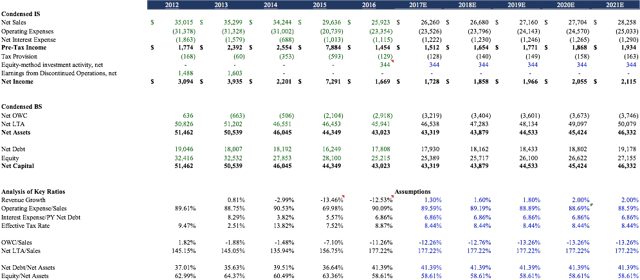 Above table created by authors using data from SEC EDGAR database.
This scenario assumes an increase in revenue growth that converges to GDP. As explained in the business analysis section, the industry is characterized by an overall slow growth rate. The difference in historical revenue growth rates in 2015 and 2016 can be explained by the impact of the deconsolidation of Venezuelan operations, Latin America divestitures, and deconsolidation of JDE Coffee. Organic Net Revenue for 2015 and 2016 was 1.4% and 1.3% respectively. Operations are projected to become more efficient at a declining pace since MDLZ is focused on improving cost structure. Interest Expense as a percentage of Net Debt, Net Long Term Assets as a percent of Sales, and Net Debt and Equity as percentages of Net Assets are held constant. Operating Working Capital as a percentage of Sales is assumed to quickly stabilize, and the assumed Effective Tax Rate is the average of the previous five years held constant.
Bull Case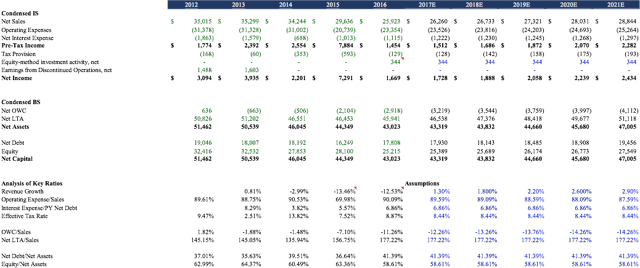 Above table created by authors using data from SEC EDGAR database.
This optimistic case assumes a more aggressive revenue growth with operational efficiency improving continuously. Operating Working Capital as a percentage of Sales is also assumed to become more negative.
Bear Case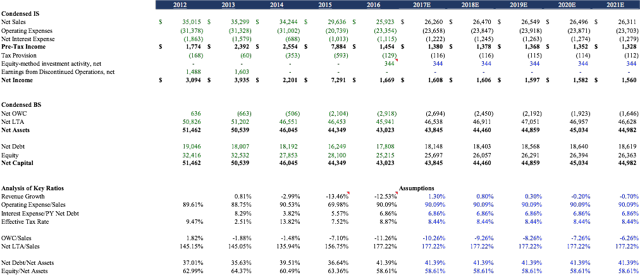 Above table created by authors using data from SEC EDGAR database.
The pessimistic scenario assumes revenue decay over time. As a percentage of Sales, Operational Expense is held constant, while Operating Working Capital is assumed less negative.
5.2 Estimating Cost of Capital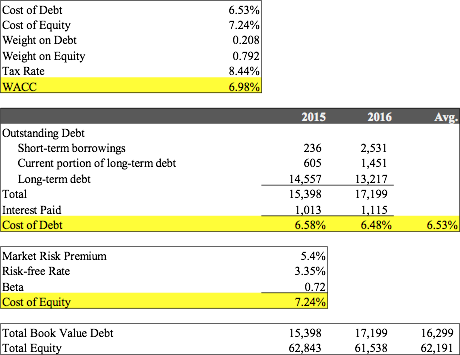 Above table created by authors using data from SEC EDGAR database.
We assumed a market risk premium of 5.4% based on what the S&P 500 has historically returned (10.5% compounding annual rate) over the 30-day treasury bill (5.1% compounding annual rate) during the same period (1926 to 2014). We used a 10-year High Quality Market corporate bond yield as a proxy for risk free return, at 3.35%. Beta was determined to be 0.72, which is in line with industry expectations and adjusted for MDLZ's capital structure.
5.3 Cash Flow-based Valuation
Base Case

Above table created by authors using data from SEC EDGAR database.
Bull Case

Above table created by authors using data from SEC EDGAR database.
Bear Case

Above table created by authors using data from SEC EDGAR database.
For the each valuation case, terminal value was calculated with an assumed perpetuity growth rate of 2%. This figure was selected as a relatively conservative assumption with consideration of GDP growth and inflation as well as the low level of growth in the snack food and confectionery industry. Bull and bear case assumptions stem from the forecasted financials.
5.4 Residual Income-based Valuation
Base Case

Above table created by authors using data from SEC EDGAR database.
Bull Case

Above table created by authors using data from SEC EDGAR database.
Bear Case

Above table created by authors using data from SEC EDGAR database.
Terminal Value was calculated assuming a perpetuity growth rate of 2% and that Abnormal Earnings continues into infinity. This is a relatively conservative assumption considering GDP growth and inflation due to the relatively low level of growth in this industry. Both the Book Value of Equity and Net Income in the optimistic and pessimistic scenarios are based on the same case assumptions as forecasted in section 5.1.
5.5 Market Multiples-based Valuation

Above table created by authors using data from Yahoo! Finance.
We chose Kraft Heinz (KHC) and General Mills (GIS) as comparable firms in the market because each firm's product offering is similar to that of MDLZ. A majority of snack foods companies are trading at around 20-25x and as we see above, a comparable P/E multiple average of 23.02 was applied to MDLZ's EPS of 1.137 to arrive at an implied share price of $26.18. This lower than trading value is due to MDLZ's low EPS. As for the equity / book value multiple, KHC is disproportionally high as a result of its over $120 billion in balance sheet assets, which far surpasses GIS and MDLZ $4-8 billion in assets. Using a comp. set equity /book value average of 4.34, applied to MDLZ's total assets of $8.48 billion, we calculated an implied market capitalization of $36.79 billion.
6. Conclusion and Recommendation
Based on business, accounting, financial, and prospective analysis, we recommend a short position in Mondelez (NASDAQ: MDLZ). Mondelez has been in operation for many years, previously under the Kraft Foods Inc. umbrella, and has established many powerful brands in the snack and confectionery industry. However, industry analysis indicates only a moderately attractive industry, particularly as healthy substitutes encroach upon Mondelez's market share and have caused declining revenues in the past few years.
While overall accounting policies are robust, we identified areas in which Mondelez management is likely trying to inflate earnings, particularly in areas where estimation is a factor, such as revenue recognition, as well as in inventory, as Mondelez relatively recently changed its inventory policies to a method that inflates earnings.
When looking at various financial metrics, a short position is supported as margins are trending on the decline, and the company's coverage and liquidity ratios indicate significant credit risk. In all valuation cases, from DCF to AEM to multiples-based, we arrived at implied share prices that are lower than Mondelez's current share price, providing strong backbone for our recommendation of a short position. The highest valuation occurred with the multiples method, and even so, the implied price was only $26.18 compared to the current price of $42.94. Fundamental shifting consumer tastes to healthier options drive this overall short position across all facets of our analysis.
7. Appendix
The Confectionery Industry
With confectionery items being a large segment of Mondelez's product portfolio, it is important to look at the outlook of the confectionery industry as well. While consumers in developed markets have historically been the most prominent consumers of confectionery items, developing markets are growing, especially as consumers in developed markets become more attentive to sugar consumption, limiting their intake of sweets. Chocolate in particular remains a popular product but has been impacted by volatile cocoa prices, driving down its selling prices. According to IBISWorld, the confectionery industry is expected to grow 1.3% in 2017.
Disclosure: I/we have no positions in any stocks mentioned, and no plans to initiate any positions within the next 72 hours.
I wrote this article myself, and it expresses my own opinions. I am not receiving compensation for it (other than from Seeking Alpha). I have no business relationship with any company whose stock is mentioned in this article.
Editor's Note: This article discusses one or more securities that do not trade on a major U.S. exchange. Please be aware of the risks associated with these stocks.
About this article:ExpandAuthor payment: $35 + $0.01/page view. Authors of PRO articles receive a minimum guaranteed payment of $150-500.Tagged: Investing Ideas, Short Ideas, Consumer Goods, Food - Major DiversifiedWant to share your opinion on this article? Add a comment.Disagree with this article? Submit your own.To report a factual error in this article, click here