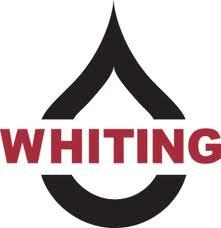 Platts reported last week that North Dakota oil production grew 74,000 bpd in October - the biggest monthly gain ever. The North Dakota Department of Mineral Resources cited the OPEC supply cut agreement and global economic growth as responsible for the rise. No doubt those were contributors. However, the biggest factor may be the additional 470,000 bpd of incremental Bakken shale exit capacity provided by the Dakota Access Pipeline System ("DAPL") which went into service earlier this year (see Whiting: So Much For the 'DAPL Bump').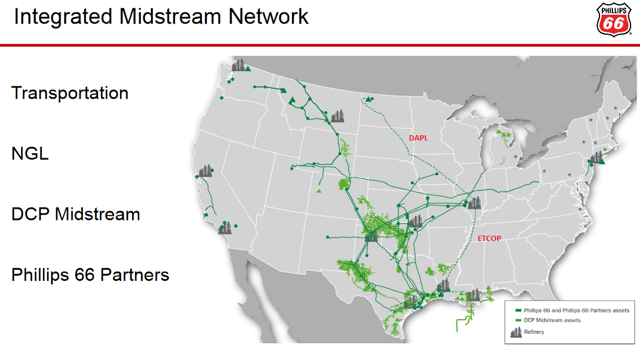 Source: Phillips 66 Presentation
As shown on the graphic above, the Bakken Pipeline System is composed of two legs: the DAPL line from North Dakota to Illinois, and the Energy Transfer Crude Oil Pipeline ("ETCOP") line from Illinois to Nederland, Texas. This pipeline system is expandable to 525,000 bpd.
Indeed, Bakken oil and gas production is on the upswing and has been growing steadily throughout the year:

Source: EIA Bakken December Productivity Report
Bakken Pipeline System Owners
Energy Transfer Partners (ETP) and Sonoco Logistics Partners (NYSE:SXL) sold a 36.8% stake in the roughly $4 billion pipeline project to a JV between the MLP of Marathon Petroleum (NYSE:MPC) and Enbridge Energy Partners (NYSE:EEP). The ownership stakes in DAPL are now:
ETP/SXL: 38.25% Enbridge Energy Partners: 27.6% Phillips 66 Partners: 25% MPLX: 9.2% How To Invest
As I mentioned in my previous articles on DAPL and ETCOP, the best way to play it was not the Bakken oil producers - who expected to save ~$2 on transportation costs for each barrel shipped via the pipeline - but in the midstream companies that own the pipeline itself. I specifically mentioned that Phillips 66 (PSX) was a superior investment opportunity as compared to Whiting Petroleum (WLL) - the #2 Bakken oil producer.
However, despite the growth in Bakken production, leading producer Whiting Petroleum has had another lousy year. And if it's been awhile since you looked at Whiting, don't get too excited by the chart below because the stock was artificially goosed by a 1:4 reverse stock split back in November: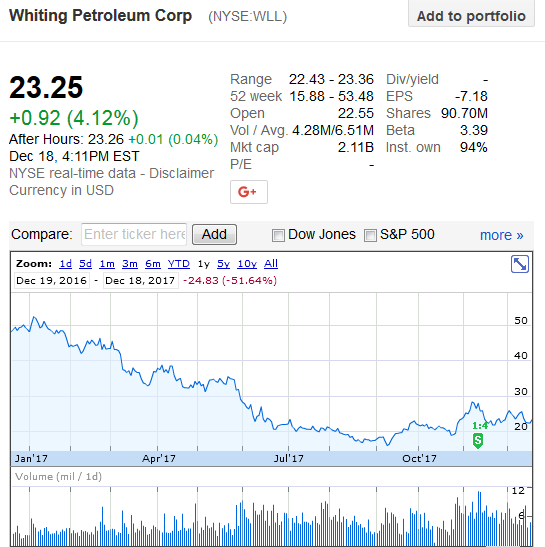 Source: Google Finance
So on a pre-split basis, that equates to a stock price of $5.81.
If you are determined to participate in Bakken shale oil producers, the leading producer in the play is Continental Resources (CLR). Continental - partly on the strength of its operations in the SCOOP and STACK plays of Oklahoma - has dramatically out-performed Whiting this year, but is still down ~6% YTD: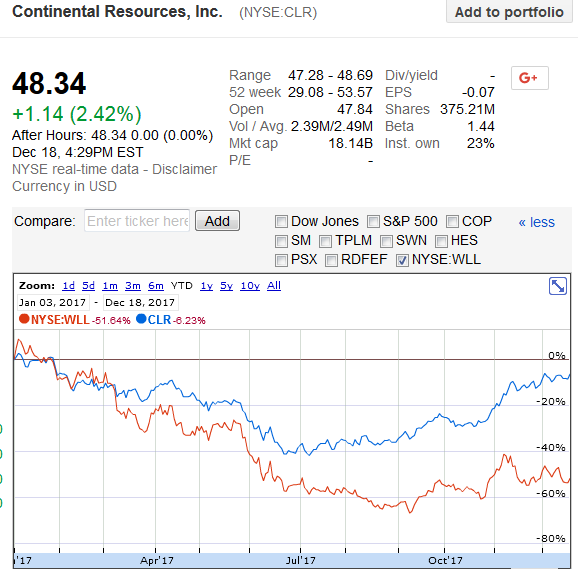 Source: Google Finance
Note that Continental announced in October plans to see 1 million bbls of Bakken crude oil to China. At the time, Continental's Chairman and Chief Executive Officer Harold Hamm said:
The current $6 discount to Brent should not exist, given the consistency and high quality of WTI, as well as relative shipping costs. Stabilized U.S. production and increasing industry sales of American crude to international markets will drive down U.S. inventories, correcting much of the recent disparity between Brent and WTI prices. Modern modes of transport in the crude oil sector today eliminate price disparities between markets and allow free markets to work.
No doubt the "modern mode of transport" that Hamm was referring to was the Bakken Pipeline System. However, note that the $6/bbl differential between WTI and Brent still exists today:

Source: Bloomberg
Subsequently in November CLR announced a second sale of 430,000 bbls of Bakken crude for sale to international markets. Whether or not establishing an international export market for Bakken crude will change the stock performances of CLR (or WLL for that matter) remains to be seen. But one thing is certain: those barrels are will be predominately transported to the Gulf Coast via the Bakken Pipeline System.
Note that Phillips 66 dropped-down its entire 25% ownership stake in the Bakken Pipeline System to its MLP - Phillips 66 Partners (PSXP) - back in September. But PSX received $2.4 billion in that deal and is still on the receiving end of (growing) tax-advantaged distributions from PSXP. In addition, PSX's refineries will benefit from increased access of advantaged Bakken crude feedstock. Lastly, the rather large $6/bbl WTI/Brent price differential continues to bode well for PSX's refined product export market.
Summary and Conclusion
Bakken oil production is back on a growth trajectory. However, stocks of the major oil producers in the play are still lagging. The best way to invest on growing production from the Bakken continues to be in a 25% owner of Bakken Pipeline System (via its MLP): Phillips 66.
PSX has yet to close above $100/share but it has traded above $100 on an intraday basis and is knocking on the door (read why here). The stock is up ~15% YTD and yields 2.8%.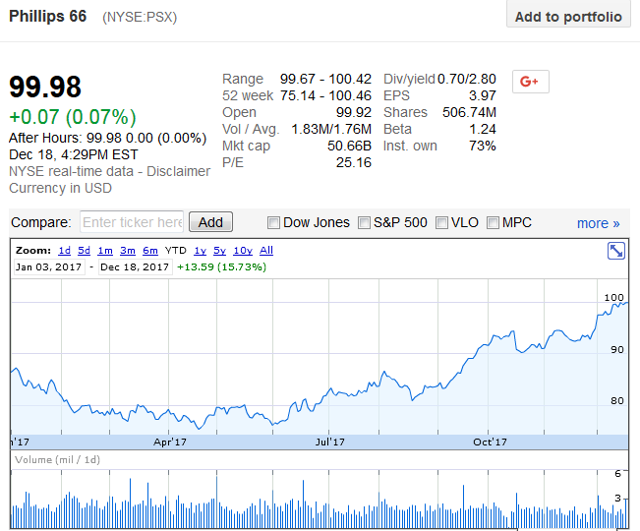 Disclosure: I am/we are long PSX, PSXP.
I wrote this article myself, and it expresses my own opinions. I am not receiving compensation for it (other than from Seeking Alpha). I have no business relationship with any company whose stock is mentioned in this article.
Additional disclosure: I am an engineer, not a qualified investment advisor. While the information and data presented in my articles are obtained from company documents and/or sources believed to be reliable, they have not been independently verified. Therefore, I cannot guarantee its accuracy. I advise investors conduct their own research and/or consult a qualified investment advisor. I explicitly disclaim any liability that may arise from investment decisions you make based on my articles. Thanks for reading and I wish you much success with your investments.
About this article:ExpandAuthor payment: $35 + $0.01/page view. Authors of PRO articles receive a minimum guaranteed payment of $150-500.Tagged: Investing Ideas, Long Ideas, Basic MaterialsWant to share your opinion on this article? Add a comment.Disagree with this article? Submit your own.To report a factual error in this article, click here