In the now volatile, although mostly cash-rich, tax-advantaged market, companies with generous shareholder yields and high capital allocations from management are commonplace. But finding quality operators with compelling valuations and wide margins of safety is challenging.
After 45 consecutive years of profitability, Southwest Airlines (NYSE:LUV) is still flying high despite a legendary low fares business model. The stock is taxiing for take-off, fueled by attractive valuations and a surprisingly manageable downside risk profile for an airline.
Here is Main Street Value Investor's flagship research on Southwest Airlines.
A Legendary Value Proposition

(Southwest Airlines Co.)
LUV is the large-cap common stock of Southwest Airlines Co., a major passenger airline that provides scheduled air transportation in the United States and near-international markets.
The company has a legendary history of being a disruptor to the domestic U.S. commercial airline industry. In preparing this report, our research included reading about this great American business success story on Southwest's website. However, we ultimately gravitate away from the public relations stuff and toward the financial narrative.
The Intrinsic Value of an SEC Filing
A company's filings with the U.S. Securities and Exchange Commission [SEC], such as the 10-K annual report, 10-Q quarterly report, and 8-K current report, are our primary sources for due diligence, especially in regards to the value proposition.
I challenge readers that may be inclined to skip annual reports and other SEC filings to find organizational, product, regulatory, and financial facts about the company that you were previously unaware of, as I often do. To be sure, these documents are mostly avalanches of legalese and numbers crunching, but deep dives will often uncover slices of information that bring us virtually inside the company's plants, stores, C-suites, and boardrooms.
Here's a sampling of the competitive advantages that we found in Southwest's 10-K Annual Report released on February 7, 2018.
Southwest was profitable in 2017 for its 45th consecutive year, a record unmatched in the domestic airline industry. Based on the most recent data available from the U.S. Department of Transportation (the "DOT"), as of September 30, 2017, Southwest was the largest domestic air carrier in the United States, as measured by the number of domestic originating passengers boarded. The airline is ranked #1 with the lowest number of customer complaints per 100,000 enplanements, per the U.S. Department of Transportation (USDOT). Southwest commands a 24% share of the domestic passenger airline market.
Historical Performance Against Market and Industry
Past performance does not predict future returns, but we want to own wonderful companies represented by reasonably priced stocks with a history of beating its industry and broader market benchmarks.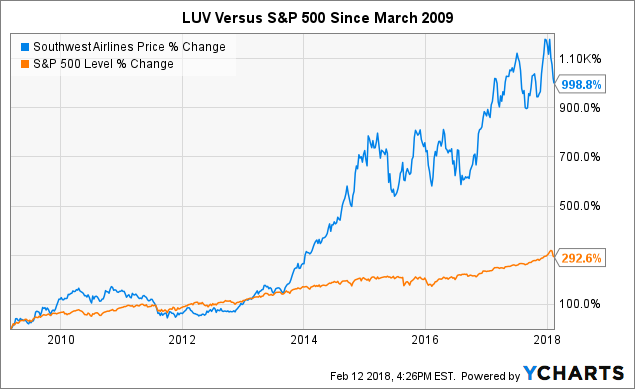 (LUV data by YCharts)
Net of dividends, Southwest has outperformed its market benchmark, the S&P 500, by more than three times since the bull market commenced on March 9, 2009.
LUV has also outperformed its industry benchmark, the NYSE Arca Airline Index, by over three times since the index's inception in 2013.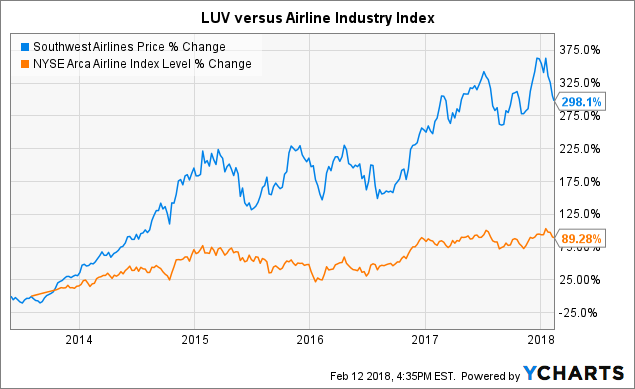 (LUV data by YCharts)
As evidenced by its website, SEC filings, and stock performance history, Southwest has established a distinct value proposition of consistent profitability from low fares, friendly service, customer satisfaction, and market share.
However, the company's reputation for taking care of its employees and passengers doesn't necessarily translate to similarly generous yields to the shareholders.
Dividend Needs a Booster Shot from Management
Main Street Value Investor considers a company's returns to shareholders a leading barometer of the worthiness of owning a slice of that business.
We measure the average of yields on earnings, free cash flow, and dividends and weigh against the 10-year Treasury rate, which was yielding 2.86% as of this writing. This equity bond rate modeling gives us a sense of whether a stock is worthy of the assumed higher risk profile compared to the safer intermediate-term government issue.
Thus, in this apparently rising interest rate environment, we are seeking stocks with equity bond rates exceeding 5.25%, or at least 250 to 300 basis points (two to three percentage points) above the 10-year Treasury yield.
Earnings Yield
Earnings yield is the annualized trailing earnings per share [EPS] divided by the most recent stock closing price. Earnings yield is the inverse of the price to earnings ratio [P/E] thus providing a comparable yield profile to a bond rate.
As of the intraday trading on February 12, 2018, LUV was yielding 10.15%, based on its trailing earnings of $5.82 a share against the most recent stock price.
Free Cash Flow Yield
Some investors trust free cash flow more so than earnings due to the GAAP/non-GAAP controversy surrounding earnings calculations. We prefer to analyze the returns for both as opposed to picking one over the other, as having more information about a company and its underlying stock is to our advantage. Nonetheless, keep in mind that free cash flow [FCF] is a byproduct of earnings.
Free cash flow yield is trailing free cash flow per share divided by the most recent closing stock price. As of this writing, LUV was trading with a free cash flow yield of 4.89% based on a trailing FCF per share of $2.76.
Dividend Yield
Ultimately, dividends keep us compensated in the short term as we wait patiently for capital appreciation of the stock over time.
We target companies with a dividend yield or the annual dividend rate divided by the most recent stock price that is exceeding 2%. Dividend payouts are one area where Southwest shorts it shareholders with a current dividend rate of just $0.50, paid quarterly. The trailing yield of 0.79% has risen to a forward yield of 0.90% because of the price erosion from the recent market volatility.
The good news is that on January 31, 2018, the company announced its 166th consecutive quarterly dividend.
As of this research, Southwest's management is returning to shareholders an equity bond rate of 5.28% when averaging its trailing earnings, free cash flow, and dividend yields.
The result suggests that holding LUV is currently favorable to the Ten-Year Treasury.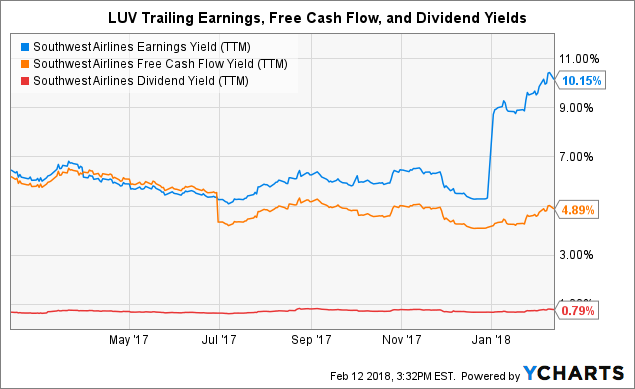 (LUV Earnings Yield (TTM) data by YCharts)
Southwest's Management is on a Mission of Love
At Main Street Value Investor, we prefer highly profitable, cash-generating companies that provide margins of safety in a literal sense. We want to own enterprises with efficient and transparent management that leverage returns for customers, employees, and shareholders.
In our 20+ years of active investing, we have discovered a mere handful of fundamental measures of a company that more often - although not always - predict the general direction of the forward-looking, long-term performance of the underlying stock.
Here's our evaluation of the management effectiveness at Southwest Airlines.
Revenue, Earnings Per Share, and Dividend Growth
When considering the worthiness of a company's inclusion in the Main Street Value Investor Model Portfolio, the emphasis is placed on actual growth metrics as opposed to speculative forecasts of what may or may not occur with future revenues, earnings per share, free cash flow, or dividend growth.
As defensive investors, we prefer companies that are already growing, not just promising to grow.
We evaluate a minimum of three-year growth in revenue, earnings per share, and dividend rate. In each case, we are looking for double-digit compounded annualized growth.
Southwest is growing its revenue at 9.50%; EPS without non-recurring items is growing at 52.30%, and the dividend, although low-yielding, is growing at a three-year annualized rate of 26.90%. As noted in the YChart below, dividend growth has subsided in recent quarters but is still excellent in comparison to the underlying rate and yield.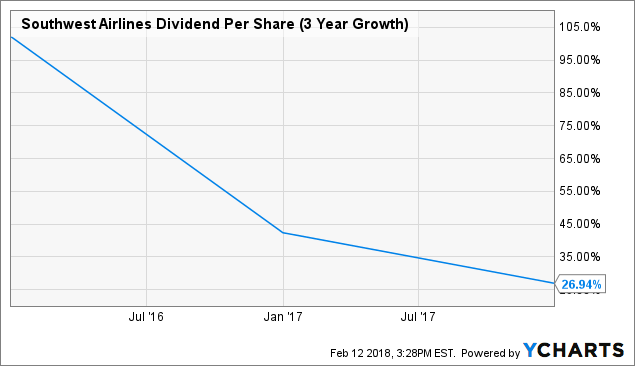 (LUV Dividend Per Share [3-Year Growth] data by YCharts)
Operating and Net Profit Margins
We invest exclusively in profitable companies. Only speculators and misinformed investors go long the stock of companies that are consistently losing money.
We take a look at the trailing 12-month operating margin (EBIT or earnings before interest and taxes divided by revenue); and net profit margin, i.e., trailing 12 months of income after taxes divided by sales.
As of this report, Southwest is reporting an operating margin of 16.60% that is yielding a net profit margin of 16.47%.
Again, we favor double-digit top and bottom line margins as a predictable indicator of potentially superior forward growth, and Southwest does not disappoint.
Return on Invested Capital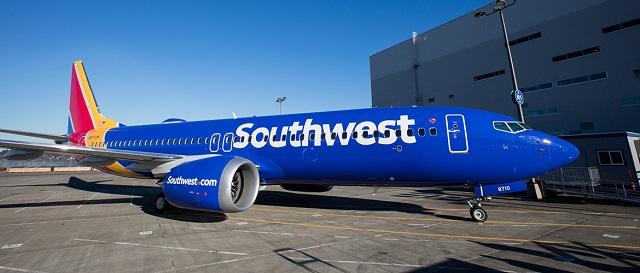 Boeing 737 MAX 8 (Southwest Airlines Co.)
As does Warren Buffett, we place a premium on the return on invested capital [ROIC], or how well a company is allocating its financial resources to generate returns for the business. We target companies producing 12% or higher in ROIC.
Southwest's management shines again with an ROIC of 28.73%, suggesting outstanding capital allocation.
To be sure, the return on invested capital is only as good as the company's weighted average cost of that capital [WACC]. When a business's ROIC diminishes toward the underlying cost of capital, it typically translates to an inverse decrease in valuation and an increase in risk.
At just 8.36% WACC, Southwest is generating returns on capital exceeding three times the cost of that capital.
Return on Equity and Assets
The potential for manipulation of equity from aggressive stock buybacks notwithstanding, the return on equity [ROE] or how well the company generates net income as a percentage of total equity in the stock provides another excellent measure of management effectiveness.
Southwest's management scores again with an impressive 39.27% ROE.
Whenever a company has a propensity toward massive capital deployment such as an airline, we also want to take a peek at return on assets [ROA], i.e., management's ability to deploy its assets efficiently.
At a higher than typical ROA of 14.49%, the company again demonstrates highly efficient returns on the management's allocation of capital, equity, and assets.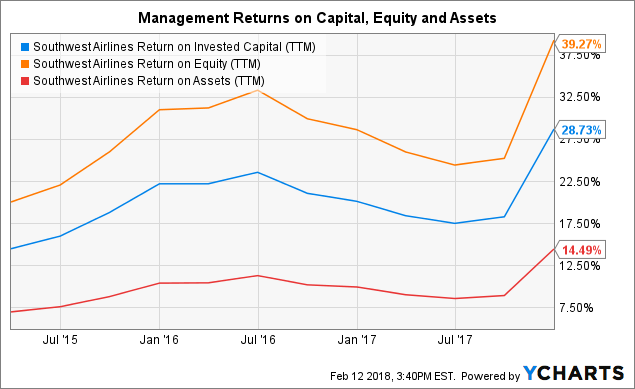 (LUV Return on Invested Capital (TTM) data by YCharts)
Employee Satisfaction and CEO Rating
A unique contribution of the Main Street Value Investor series is the measurement of employee satisfaction, including the rank and file's evaluation of the CEO. Although gathered from non-scientific data of the all-too-biased Internet, we believe a snapshot look at employee morale is a worthwhile attempt at quantifying a company's cultural dynamic.
Southwest Airlines Co. Employee Reviews as posted on Glassdoor as of February 12, 2018:
Employee satisfaction: 4.2 out of 5.0 (1,338 reviews) CEO rating: 87% (936 ratings)
Based on the Glassdoor reviews, we interpret the overall employee morale and CEO rating at Southwest as bullish. Chairman and CEO Gary Kelly was named one of the highest rated CEOs of 2017 by Glassdoor. Based on these results, it would be difficult to argue that Southwest's marketing and service messages of happy employees are not genuine.
Southwest's Culture of Celebration and Appreciation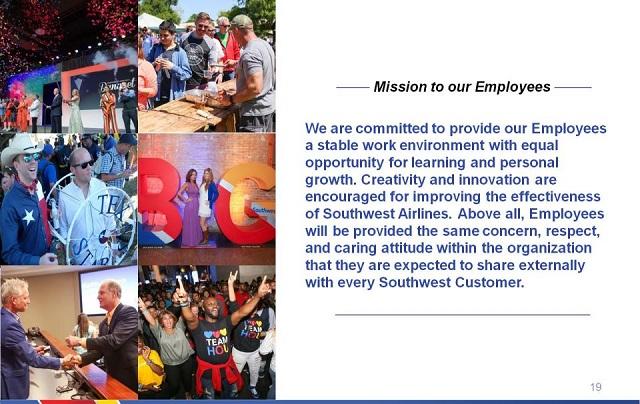 (Investor Presentation Booklet - February 2018/Southwest Airlines Co.)
Southwest's mission to its employees is a lost art in the world of commerce that should otherwise assume the obvious.
If you want your employees to take care of the customers, you must first take care of your employees.
We admire high-quality companies with effective returns on management, specifically, top and bottom line and dividend growth; high returns on capital equity, and assets; and happy employees that respect the CEO. Southwest scores big in each dynamic.
Southwest's annual profit sharing with employees - this year's award equates to the equivalent of five weeks of pay for each of its 56,000 employees - speaks volumes to the apparent high morale. And these are not one-off public relations' scripted bonuses following corporate tax reform. This year the company's pool is $543 million; last year it was $586 million.
Southwest is generating outstanding returns on management. Nevertheless, the potential for the magic of compounding on total returns is more likely when the stock exhibits a wide margin of safety at the time of purchase.
Low Fares and Lower Multiples
The potential for increasing annualized compounding from total returns on capital and dividends improves when we purchase stocks with wide margins of safety.
Determining the attractiveness of a stock's price based on valuation multiples relative to a company's fundamentals is one of the primary tenets of the Main Street Value Investor's search for stock investing nirvana or alpha.
In our mission to keep investing super simple [K.I.S.S.], we rely on just three multiples that we think are the best financial measurements of a stock's mispricing: market sentiment, revenue, and cash flow. For entertainment purposes, we also take a peek at the price to earnings growth ratio.
Enterprise Value to Operating Earnings
Enterprise value to operating earnings [EV/EBITDA] is enterprise value [EV], i.e., total market value and debt less cash, as it relates to operating earnings or earnings before interest, taxes, depreciation, and amortization [EBITDA]. In general, less than 12 times reflects a reasonable stock price.
As of the writing of this report, LUV was trading at just 7.28x EV/EBITDA.
EV/EBITDA is a useful indicator of whether the market has overbought the stock or oversold it as appears the case for LUV.
Price to Sales
We interpret <2.00x as an attractive multiple when measuring a stock price relative to its revenue stream or the price to sales multiple [P/S].
LUV was recently trading at an appealing 1.62x its trailing revenue.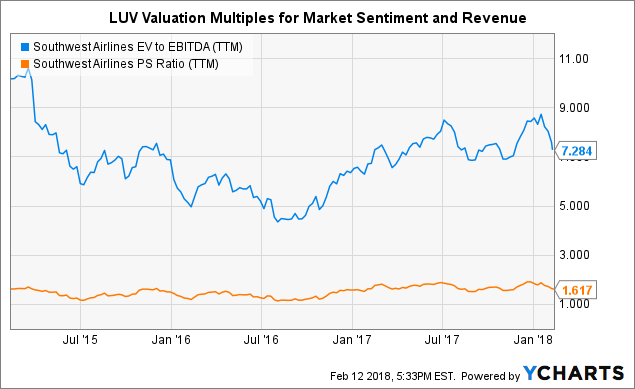 (LUV EV to EBITDA (TTM) data by YCharts)
Price to Operating Cash Flow
We also measure cash flow multiples as a reliable predictor of the intrinsic value of a stock price. We look for stocks trading at a single-digit multiple to the organization's operating cash flow (P/CF).
Again, LUV appears cheap to the market trading at just 8.75x P/CF.
Price to Earnings Growth
The price to earnings growth ratio [PEG] is a favorite among Wall Street's growth and momentum crowds. As value investors, we are more cautious based on the projected nature of PEG as opposed to actual trailing and current results. Nonetheless, it can provide a substantive peek into a stock's price worthiness.
We prefer the PEG ratio below 2.00 and LUV does not disappoint at a bargain basement 0.31x.
Value Matters
In our view, LUV is presenting with overwhelmingly bullish valuation multiples. However, a research dive into downside risk can assess the value as either compelling or no more than a bull trap planted by the bears.
But Aren't All Airlines Too Risky?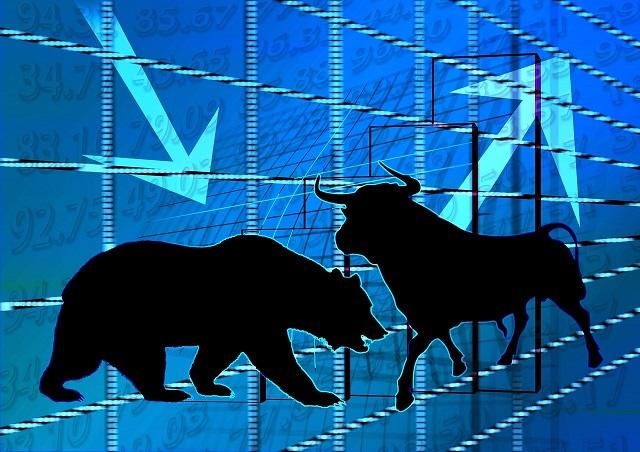 Let the Games Begin (Pixabay)
For value investors, an attractive current stock price is a non-negotiable prerequisite to initiating the productive partial ownership of a quality company. However, preservation of capital becomes supreme immediately following the stock purchase. Thus, evaluating downside risk is useful, if not required, in measuring the all-encompassing margin of safety.
Economic Moat
In investment terms, an economic moat is the subjective measurement of the competitive advantages of a company's products or services in the marketplace, thus creating a barrier to entry for potential competitors. The stock prices of publicly-traded corporations that are surrounded by wide economic moats tend to have higher floors in down markets.
Typical for a passenger airline, Morningstar assigns Southwest a moat rating of none.
We assign a no-moat rating to Southwest. Players in the airline industry--which remain exposed to low switching costs, price transparency, a lack of entry barriers coupled with high exit barriers, and commoditization of a perishable product--lack an economic moat. In stark contrast to other U.S. airlines, Southwest has managed to achieve 45 consecutive years of profitability. Its strong focus on cost controls and efficiency metrics, such as aircraft turn times and labor productivity, enabled the company to consistently post solid profit margins.
In an industry with apparently no canals to cross when on the ground, Southwest may be in a position to win the overall domestic race in the airlines' battles for market share, capacity discipline, passenger revenue per available seat mile, and fuel efficiency.
Stock Price Volatility
Beta or the fluctuation of a stock price to changes in the overall market is a controversial measure of a stock's volatility, but we look at three-year trailing beta to see how movements in the stock price measure up to the market's current volatility, or lack thereof.
As a benchmark, the market assigns the S&P 500 a perpetual beta of 1.00. Three-year beta below 1.25 or no more than 25% volatility against the benchmark is preferred. Less than 1.00 is ideal.
LUV's trailing beta is currently at 1.10, suggesting minimal downside risk from increasing market volatility.
Short Interest Percentage of Float
The short interest as a percentage of the float is the ratio of tradeable common shares sold short, i.e., a bet that the stock price is poised to drop based on decaying fundamentals, high valuation multiples, or negative catalysts.
As of this writing, short interest on LUV was 2.46%.
We typically don't worry about the market plundering a stock if the short interest is below 5% of the float.
Debt Coverage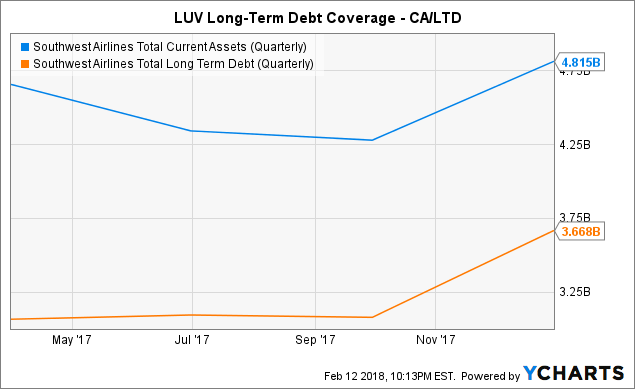 (LUV Total Current Assets [Quarterly] data by YCharts)
A company's long-term debt coverage, e.g., current assets divided by long-term debt [CA/LTD], was a favorite of Benjamin Graham, the father of value investing. Higher than 1.50 is ideal, as we want to own businesses that theoretically can pay down debt at least one and a half times using liquid assets.
Per the most recent published balance sheet available on YCharts, Southwest was covering a sufficient 131% or 1.31x its long-term debt with current assets.
In simple terms, the company should be able to pay off its long-term debt obligations using liquid assets such as cash and equivalents, short-term investments, accounts receivables, and inventories such as raw materials.
We avoid overly leveraged companies that are carrying debt that is more than double the outstanding equity.
Just like financially troubled households that carry debt twice their net worth, the same holds true for most companies. Using debt in a low-interest rate environment is judicious; leveraging too far beyond net worth or net asset value is a recipe for disaster waiting for the first signs of an extended market downturn or economic recession to cook the books.
The good times are euphoric until they are not.
Market Risk
Naturally, like any airline, Southwest carries industry-specific risks including jet fuel costs, fuel hedging exposure, intensive labor and aircraft capital requirements, and fare wars.
As active, self-directed value investors we want to be keenly aware of the perils of investing in the common shares of publicly-traded companies.
We assign an overall market risk profile of high, above average, average, below average, or low to each stock researched. We more often purchase shares with below average or low-risk profiles that also meet our criteria for value proposition, shareholder yields, returns on management, and valuation multiples.
Main Street Value Investor currently rates Southwest with an average risk profile due to adequate long-term debt coverage and lower volatility profiles to legacy carriers such as Delta Air Lines (DAL). But once again, Southwest breaks from the mold for airlines where industry pundits assume an above-average risk profile.
We mitigate any underlying risks by employing a value-oriented, long view portfolio strategy of buying slices of wonderful, dividend-paying companies at reasonable prices. We then hold our shares for as long as the company remains terrific as demonstrated by growing revenues and earnings; and, more importantly, by generating free cash flow and capital allocations that produce compounding annual returns for shareholders.
When investing, it is far more likely to get rich slow than to get rich fast, and getting rich slow is better than not at all.
Southwest is Bumping the 'Never Buy an Airline' Crowd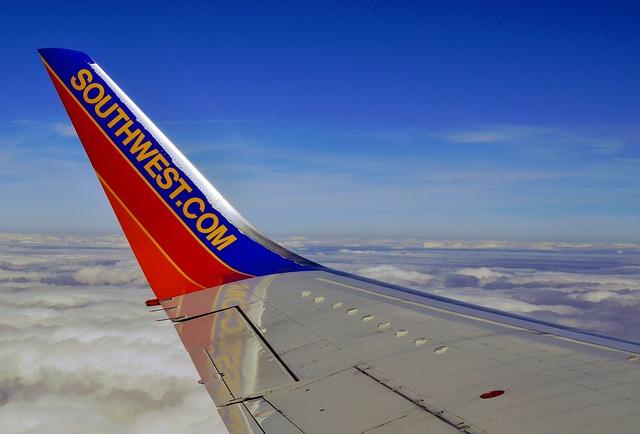 (EyeImage/Pixabay)
Because of tepid histories in employee morale, passenger complaints, free cash flow yields, efficient capital allocations, and downside risk, most airlines are forever cast in the "never buy an airline" investment advice column.
Southwest set out almost fifty years ago to defy all of those negative airline stereotypes whether in the company offices, at the airport gate, in the aircraft cabin, or on Wall Street.
This research, our initial report on Southwest Airlines, points to the company's continued legacy of compounding returns protected by the widest margin of safety a skeptical investor would never expect of an airline.
Disclosure: I/we may initiate a long position in LUV over the next 72 hours.
Main Street Value Investor on Marketplace
I invite you to learn more about Main Street Value Investor in the SA Marketplace where we host an actively-managed model portfolio of mispriced stocks with compounding returns and wide margins of safety through all market cycles.
Join Now and Avoid Our Upcoming Price Increase
We are raising our prices 60% for new subscribers on April 2, 2018. The good news is by that time we will have added a second model portfolio of 'underfollowed' small-cap total return stocks to the service. Of course, MSVI's flagship large-cap total return portfolio will remain and continue to grow with new ideas. Join today and lock-in the current low monthly or annual rate for life as long as you maintain active membership. Learn more here without obligation.
Disclosure: I am/we are long DAL.
I wrote this article myself, and it expresses my own opinions. I am not receiving compensation for it (other than from Seeking Alpha). I have no business relationship with any company whose stock is mentioned in this article.
Additional disclosure: An advance reader copy of this article was posted on February 12, 2018, for members of Main Street Value Investor on Marketplace before its submission to the Seeking Alpha editorial team. Data is for illustrative purposes only. The accuracy of the data cannot be guaranteed. Narrative and analytics are impersonal, i.e., not tailored to individual needs or intended for portfolio construction beyond the contributor's model portfolio which is presented solely for educational purposes. David J. Waldron is an individual investor and author, not an investment adviser. Readers should always engage in further research and consider (as appropriate) consulting a fee-only certified financial planner, licensed discount broker/dealer, flat fee registered investment adviser, certified public accountant, or qualified attorney before making any investment, income tax, or estate planning decisions.
About this article:ExpandAuthor payment: Seeking Alpha pays for exclusive articles. Payment calculations are based on a combination of coverage area, popularity and quality.Tagged: Investing Ideas, Long Ideas, Services, Regional Airlines, Editors' PicksWant to share your opinion on this article? Add a comment.Disagree with this article? Submit your own.To report a factual error in this article, click here