Instructure (NASDAQ: INST), the Utah-based SaaS company that's best known for its Canvas platform that offers software solutions for universities and other educational institutions, continues to be one of the most undervalued (in my opinion) stocks in the software sector. By and large, Instructure offers investors nearly everything on the checklist of bullish factors for SaaS investments: high growth, a thinning loss on the bottom line, a market-leading and cloud-first application, and an excellent track record for exceeding results.
Not only that, Instructure has further expanded out of its shell from its core higher ed products in Canvas and into an offering called Bridge, which provides a learning platform for enterprises. Instructure's entry into the enterprise market probably more than doubles its TAM, and commentary on Bridge's performance (relying upon management's discussions around earnings time) have been hugely positive.
Yet for some reason, Instructure has always traded at a substantial discount to other fast-growing SaaS peers. Here's a look at Instructure's valuation relative to other companies in its 30-40% growth bucket with similar scale and margins: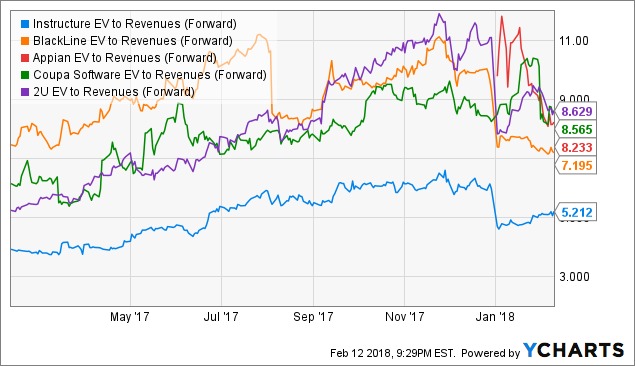 INST EV to Revenues (Forward) data by YCharts
Even worse is the fact that 2U (NASDAQ: TWOU), which can't even truly be considered a cloud company, trades at a substantial premium to Instructure. 2U's business model is more consultative (and thus, less recurring) than Instructure's - it sets up online courses for its partner universities and collects a share of the tuition, effectively making it not too unlike a for-profit education company. Instructure, on the other hand, gets schools and companies on its standard platform and derives monthly fees from an extremely sticky base for years.
With a strong Q4 earnings release that beat analyst expectations by several points, as well as a robust outlook in FY18 that still leaves plenty of room for upward revisions (Instructure has, for a long time, been a devout follower of the predictable "beat-and-raise" earnings patterns), the bullish case for Instructure has only been reinforced. Perhaps it's the fact that the company is based in Salt Lake City and not the Silicon Valley that investors don't have it too high up on their radar, but whatever the reason, Instructure is worth a lot more than it's currently trading for.
Q4 scorecard
Instructure's growth over the past year has been nothing short of spectacular. The company's growth rates, in fact, are superior to many of the companies that trade at much higher multiples than Instructure.
Figure 1. Instructure Q4 revenue

Source: Instructure investor relations
Revenues grew 39% y/y to $43.8 million, not too bad of a deceleration from 42% y/y in the previous quarter - typically; companies at this scale ($150M-plus) growing at this rate tend to fall off a lot faster than Instructure, but the company has held fast to its hypergrowth stage. For the full year, Instructure's revenues are up a blistering 42% (not to drive too many comparisons to where 2U falls short, but 2U grew just 32% in its most recent quarter).
Also worthy of note is the fact that analysts were only expecting $41.4 million in revenues for the quarter, or 31% y/y growth. Instructure beat Wall Street expectations by 8 points on the top line - hands down, one of the best beat margins in the software sector this quarter. It's a bit surprising that Instructure has seen such little after-hours reaction to this strong earnings beat, whereas a more popular stock might have seen a move of 5%+. But then again, that's one of the advantages of investing in a lesser-known star before it becomes hot - being able to buy on the cheap. (And 5x forward revenues, for this kind of performance, is decidedly cheap).
The only disappointment in the quarter - and it's a very small one - is that the company gave up about 1% of gross margin from the prior year's Q4. But with gross margins holding up around 70%, it's high enough where we don't have to worry too much.
Operating margin, on the other hand, made a huge leap forward:
Figure 2. Instructure operating margin improvements
Source: Instructure investor relations
The company shrank its losses despite a growing revenue base as opex costs saw efficiencies across all components of spend. A -28.5% operating margin is still a sizable loss, but with 12% of margin efficiencies relative to last year, it's moving very quickly in the right direction.
Intructure's pro forma net loss of -$8.2 million also shrank from -$10.0 million in the prior year. This translates into PF EPS of -$0.27, a penny better than analyst consensus of -$0.28.
How investors should react
Investors would be wise to pick up Instructure shares on the earnings news, especially if its pop is a muted one. Eventually, the company will get the credit it's due and close the valuation gap between its peers.
Thinking bigger picture - Instructure's revenues are all long-term, contractual subscriptions, and its largest clients are universities and university systems. These types of institutions take forever to make decisions - especially the decision to uproot existing IT systems, which cause a great deal of work and pain. This makes Instructure's revenues highly defensive - as long as it keeps clients moderately happy, they're likely clients for life. Outside of the still-private Blackboard, there are virtually no other competitors in the cloud learning management system (LMS) space with a brand name as powerful as Canvas. Bridge, on the other hand, still gives Instructure room to grow and diversify its business as its core educational market begins to saturate.
At 5x revenues, Instructure is a bargain too cheap to ignore.
Disclosure: I am/we are long INST.
I wrote this article myself, and it expresses my own opinions. I am not receiving compensation for it (other than from Seeking Alpha). I have no business relationship with any company whose stock is mentioned in this article.
About this article:ExpandAuthor payment: Seeking Alpha pays for exclusive articles. Payment calculations are based on a combination of coverage area, popularity and quality.Tagged: Investing Ideas, Long Ideas, Technology, Application SoftwareWant to share your opinion on this article? Add a comment.Disagree with this article? Submit your own.To report a factual error in this article, click here