Amazon.com, Inc. (NASDAQ:AMZN) stock hasn't wasted any time recovering from its losses earlier this month. When the broader market got caught up in a rapid 10% correction, Amazon stock held up remarkably well.
Because of how AMZN stock price has behaved in the past during these market-wide selloffs, I had a more cautious approach to the trade.
That didn't pan out quite as well as I would have liked, (although it did give us a great buying opportunity in Apple Inc. (NASDAQ:AAPL), and let us nail our trade in Alphabet Inc (NASDAQ:GOOGL).
Trading AMZN Stock Price
Last time we saw a dramatic market selloff was in the beginning of 2016. Lasting about five weeks, stocks like AMZN fell about 40% from peak to trough. So the logic here was, perhaps Amazon stock will still tumble 20% to 30%.
We had three support levels for AMZN stock price at $1,325, $1,200 and $1,050. Shares only hit the first one, as the stock fell to a low of $1,275 — $50 per share below our first level — and bounced right off the 50-day moving average. That day, shares closed at $1,350. Those that were able to buy at our support level are now sitting on a gain of 13%.
Not bad for a few weeks' work.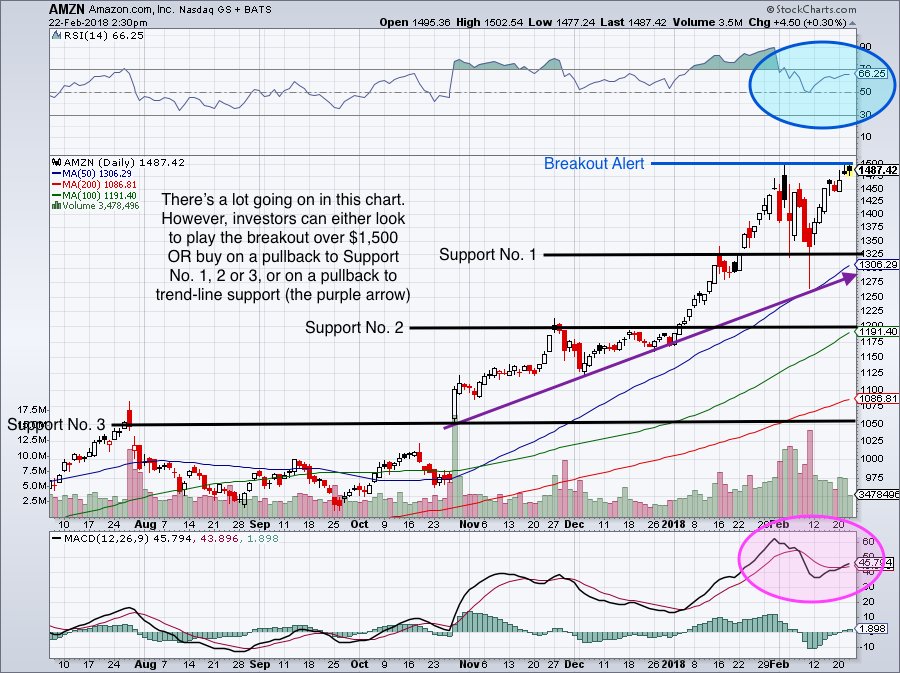 Anyway, Amazon stock has quickly found itself at new all-time highs. $1,500 has been a big level many traders are eyeing. Can AMZN stock price push through? If it can, it could trigger a much larger breakout. However, it seems like if investors wanted to push AMZN stock through $1,500, they would do so with some authority. On an RSI basis (blue circle), shares aren't overbought. Momentum, via the MACD (pink circle) favors the bulls.
So what's taking so long?
I'm not sure.
Maybe we'll get a push through and a pullback to $1,500. Maybe it will be a false breakout. Until we know definitively though, I want to keep it simple for prospective traders: own Amazon stock over $1,500 and don't if it's below.
Sizing Up Amazon Stock
The stock's price action brought me back to a broader question: Why did AMZN hold up so well vs. the last time we had a major selloff?
The losses in Amazon stock in the last selloff were startling. But during this selloff, it was one of the stronger names investors were flocking to. Perhaps they knew this blue-chip tech stock would rebound when the market did and thus continued to buy it.
Or maybe it's because investors believe more in the business.
Amazon has quickly morphed into an internet conglomerate. The company has wreaked havoc on the retail sector, disrupting everything from Sears Holdings Corp (NASDAQ:SHLD) to Walmart Inc (NYSE:WMT). This was no secret, but its progress on other fronts — like cloud computing and advertising — has been impressive. It's put pressure on companies like Microsoft Corporation (NASDAQ:MSFT) and Google as well.
Without its Amazon Web Services business, I don't think AMZN stock price would be as high as it is today. After all, the unit is responsible for rejuvenating the company's overall revenue growth and represents a bulk of its earnings. Still, Amazon as a company does not churn out very impressive margins. For instance, last quarter Amazon had profit margins of just 3%, its best result in seven years.
For comparison AAPL and GOOGL have profit margins north of 20%.
The Bottom Line for Amazon Stock
Thanks to a patient investor base — perhaps the most patient in the whole market — Amazon's management can continually re-invest in future growth opportunities without worrying about investors punishing the stock.
MKM Partners analyst Rob Sanderson just slapped a $1,750 price target on Amazon stock with investor patience being one of his reasons. The target implies about 17% more upside from current levels.
Keep in mind though, this stock was trading for about $950 at the start of Q4. We're still in Q1 and shares are up almost 60% since then. So call me crazy, but as an investor I need a better price before getting long, although traders can still play the breakout.
Bret Kenwell is the manager and author of Future Blue Chips and is on Twitter @BretKenwell. As of this writing, Bret Kenwell held a long position in AAPL.
Compare Brokers