Last month Laredo Petroleum (LPI) announced strong Q4 and full-year 2017 EPS results. There was a lot to like:
Production was up 17% yoy. Cash margins of $20.87/boe were up 48% yoy. Lease operating expenses of $3.53/boe fell 15% as compared to 2016. Sale of the company's interest in a Midland Basin pipeline system realized $830 million, which enabled $690 million in debt reduction.
The bottom line numbers looked good as well: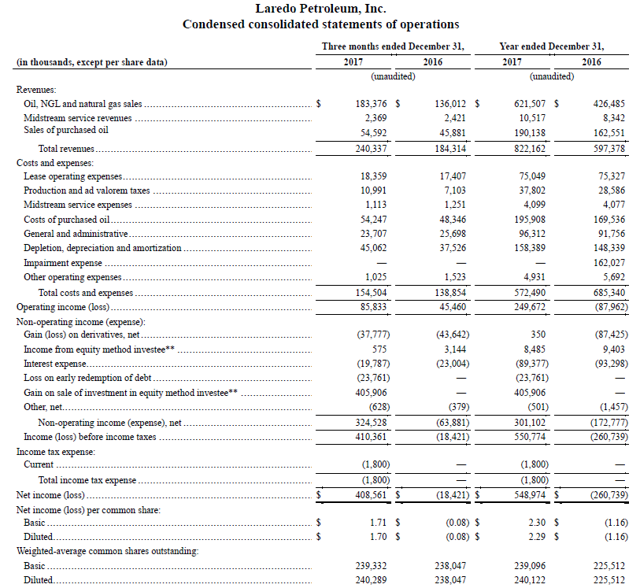 Source: Q4 and full-year 2017 EPS Report
Total full-year revenue was up 38% and bottom line net income increased to $2.29/share versus a $1.16/share loss in 2016. Granted, ~$406 million of the $549 million in 2017 net income was a result of the pipeline sale, but even backing that out and all things being equal, the company still would have reported $143 million in net income for the year. That equates to $0.60/share. Which means that as of today, and neglecting the pipeline sale and with LPI trading at $8.77 a share, the company trades for a P/E=14.6.
Note also that unlike many shale oil companies, LPI's outstanding share count increased by only 6.5%. And even that (minor) criticism was addressed recently by the announcement of a $200 million share buyback plan. Management said this represented about 10% of the shares. At today's price ($8.76), $200 million equates to about 22.8 million shares (9.5% of the total shares outstanding). Shares are up about $1 since the EPS and buyback plan were announced on February 14.
Yet, despite the excellent EPS and $200 million buyback news, LPI is down -17.5% YTD: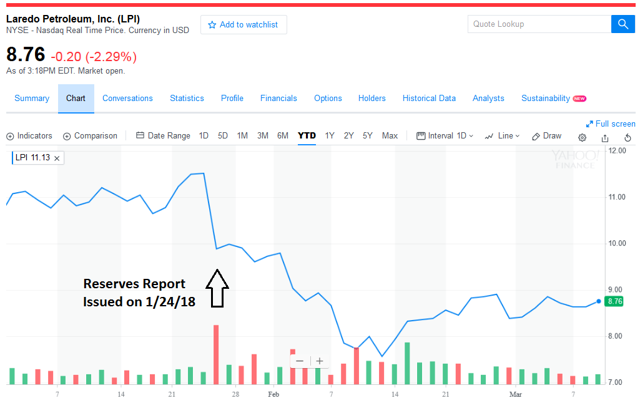 Source: Yahoo Finance
The downdraft appeared to have started on January 24 (see above) with a big increase in down volume correlating to the release of the company's 2017 reserves report. Not sure what "The Street" found not to like in the report. The company grew proved reserves by 29% and organically replaced 336% of 2017 production. LPI's proved developed F&D costs of $7.90/boe is very low and on par with that of leading Permian producer Pioneer Natural Resources' (PXD) proved developed reserves added in 2017 at an F&D cost of $7.60/boe.
Perhaps, analysts were not impressed with LPI's proved oil reserves as compared to NGLs and dry gas:

Source: 2017 Reserves Report
Note that of the company's 216 million boe of proved reserves, only 79 million bbls were oil (37%). Reserves of NGLs totaled 67 million boe, or 31% which leaves ~32% for dry gas reserves. In other words, total liquids (oil and NGLs) accounted for 68% of reserves.
But note the company added 15 million bbls of oil to the proved reserves estimate as compared to the beginning of the year while it produced 9,475,000 million bbls of oil during the year. So despite the rather large additions of NGLs and dry gas to the reserves base, the company easily replaced and added to its proven oil reserves.
Also note that the value of Laredo's proved reserves increased to $1.8 billion at year-end 2017, an 81% increase from year-end 2016. The increase was driven by a 29% increase in proved reserve volumes and price increases of 24% for oil and 57% for NGLs.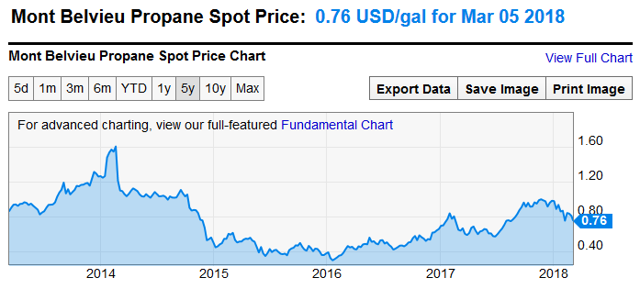 Source: Ycharts
As can be seen above, the price of propane - a leading NGL price indicator - has more than doubled from the low of early 2016. To be sure, NGLs production has zoomed higher as Permian producers target oil, but get NGLs (and dry gas) as a by-product. RBN Energy says production of NGLs increased to 4 million bpd in Q4 of 2017 - an all-time high, and is likely headed considerably higher this year. However, at the same time, world-scale crackers have recently gone into service on the Gulf Coast. These include:
Exxon Mobil's (NYSE:
XOM
) new ethane cracker in Baytown, Texas - the heart of a new 1.5 million ton ethylene project. CPChem's (a 50-50 JV between Phillips 66 (NYSE:
PSX
) and Chevron (NYSE:
CVX
)) new 1.5 million ton ethane cracker in Old Ocean, Texas.
Both of these new petrochemical projects are currently ramping up and will draw NGLs from Mont Belvieu, Texas - the NGLs capital of North America - and bode well for future demand, and pricing support - for NGLs.
Bottom line: Laredo's stock is down ~34% over the past year even though the value of 2017 year-end proved reserves increased 81% as compared to year-end 2016.
Q4 Disappointment?
Perhaps the sell-off was driven by the operational update included in the 2017 reserves report. This included the following:
Total production in the fourth quarter of 2017 was a Company record 61,922 BOE per day, comprised of 43% oil, 28% NGL and 29% natural gas. In addition to delays pushing well completions later into the quarter and into 2018, production was adversely impacted by two horizontal wells in the Company's western Glasscock acreage that encountered operational issues, resulting in permanently reduced production from those wells.
As a result of the winter weather impact on well completions, and the two Hz well operational issues, Q1 production guidance of 62,000 boe/d likely disappointed analysts and, combined with the somewhat "gassy" reserves report, has put - irrational - downward pressure on the stock. And note that despite the relatively weak Q1 expectations, full-year 2018 guidance remains unchanged.
Valuation
LPI's current market cap is ~$2.1 billion and total debt is $800 million: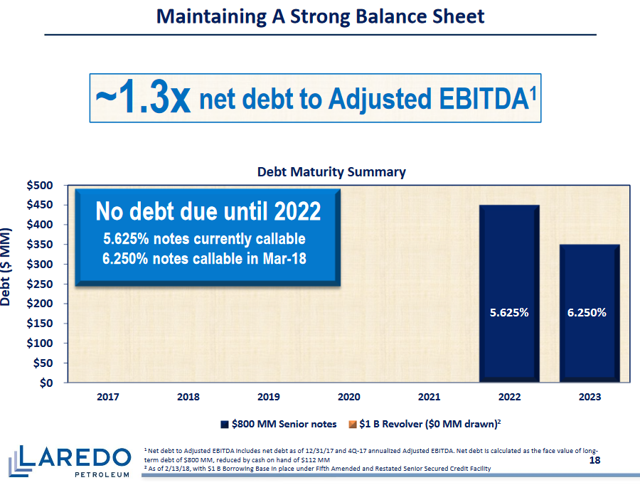 Source: March Presentation
That means the company's net-debt to Q4 annualized EBITDA is only 1.3x and there is no debt due until 2022. In addition, the company has $1 billion on an undrawn revolver. So there are absolutely no liquidity issues here.
Better yet, at current strip prices, I estimate LPI's 2018 EBITDX to come in around $600 million. That means the company is currently trading at an estimated 4.8x EV/EBITDX multiple ($2.9 billion/$600 million). That is very low as compared to the peer group (~7.5x) and much lower than PXD at ~10x multiple. That said, PXD gets a well-deserved premium valuation based on its huge unbooked drilling inventory. Regardless, LPI appears to be "on sale."
As a result of the extremely low valuation, low debt, and excellent drill-bit results, LPI's largely contiguous 125,000 net acres are likely to be viewed in a very attractive light by larger operators in the Permian Basin. LPI's leasehold is in the "sweet spot" of the Permian but in an area of lower oil content as compared to the highest quality oil bearing acreage in the play. But that drawback is largely overcome by the fact that LPI's highly contiguous acreage is well-suited for exploitation by extra-long laterals: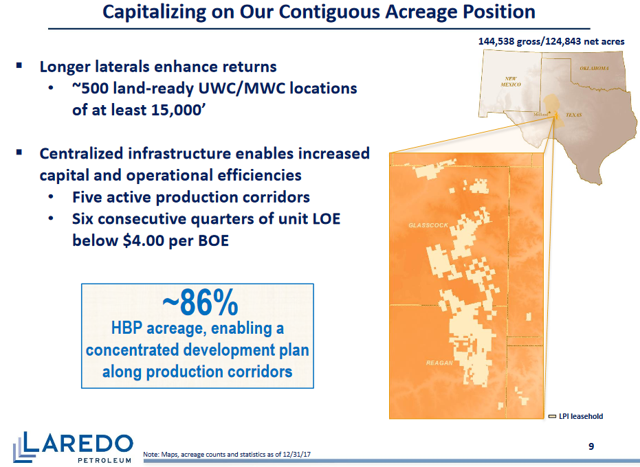 Source: March Presentation
The ability to drill 15,000 foot laterals is key to the company's low LOE expense. In addition, Laredo also has a well-developed infrastructure system that is highly valuable going forward. These assets include:
~60 miles of crude oil gathering pipelines ~95 miles of water gathering/recycling pipelines ~118 miles of natural gas gathering pipelines Risks
In addition to the obvious commodity price risks associated with an O&G producer like Laredo, investors should also keep an eye out for:
Inflation in oil services costs - including sand, water, and trucking. Pipeline exit capacity may not keep up with growing production which could lead to production bottlenecks and volatile pricing in the Midland Basin and wider Permian region. Summary & Conclusion
Laredo is a very efficient and low-cost producer in the Permian Basin. Critics would say the company's leasehold lies east of the most lucrative Midland Basin acreage and is "gassier." However, LPI's reserves report showed excellent replacement of oil production and rising NGLs pricing greatly enhanced the company's proved reserves value (+81% yoy). While Q1 production hiccups and guidance of 62,000 boe/d apparently disappointed some analysts, the selling is way overdone. Laredo could very easily trade back up to the $13 level it was at this time last year when debt was much higher, production much lower, and its proved reserves value was 81% lower. Even at $13/share, the company would have an EV of:
($13/share * 240.112 million shares) + $800 million debt = $3.9 billion.
Based on an estimated $600 million of 2017 EBITDX (conservative in that I am baking in $55/bbl oil) that gives an EV/EBTIDX multiple of 6.5x, still very low as compared to peers. Also note Laredo's $200 million buyback plan is double than its much bigger rival Pioneer's recently announced repurchase plan. Laredo's management obviously is quite bullish on the company's outlook and believes the stock is significantly undervalued.
Bottom line is a rise to $13/share over the next 12 months amounts to a 45%+ annual return opportunity. In the meantime, the downside appears limited to the $8 low recently put in prior to the Q4 EPS report and $200 buyback announcement. Laredo is a Buy based on this risk/reward basis. In addition, a buyout by a bigger Permian producer could fetch $16/share or more.
Disclosure: I/we have no positions in any stocks mentioned, and no plans to initiate any positions within the next 72 hours.
I wrote this article myself, and it expresses my own opinions. I am not receiving compensation for it (other than from Seeking Alpha). I have no business relationship with any company whose stock is mentioned in this article.
Additional disclosure: I am an engineer, not a qualified investment advisor. While the information and data presented in my articles are obtained from company documents and/or sources believed to be reliable, they have not been independently verified. Therefore, I cannot guarantee its accuracy. I advise investors conduct their own research and/or consult a qualified investment advisor. I explicitly disclaim any liability that may arise from investment decisions you make based on my articles. Thanks for reading and I wish you much success with your investments.